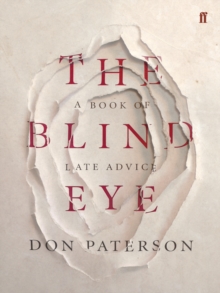 The Blind Eye : A Book of Late Advice
Hardback
Description
The Blind Eye is a collection of Don Paterson's funny, irreverent and wise aphorisms.
This collection not only entertains but also leads us to ponder on the dark and light that make up the human condition.
It's a book to carry and open anywhere - to lighten or darken the moment, but always to administer a jolt to the idling mind. 'It is possible for a woman to say, honestly, that she has thought of her lover all day long - but she will neglect to mention the twenty other things she has kept in her head at the same time.
A man ignorant of this ability will be terrified by her declaration, since were it to be his . . . it would be a straightforward admission of his own derangement.'
Information
Format: Hardback
Pages: 144 pages
Publisher: Faber & Faber
Publication Date: 18/10/2007
Category: Humour
ISBN: 9780571233823