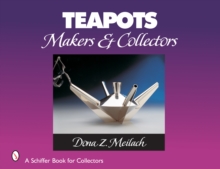 Teapots : Makers & Collectors
Hardback
Description
Dive into tantalizing, eye-catching objects dubbed "teapots," but be warned, serving tea is not necessarily their purpose.
Though many artists are making functional, traditional teapots; other artistic adventurers are brewing up whimsical sculpture.
Explore unique designs and materials. With the usual image of a ceramic or silver teapot in one's minds eye, how do you confront a teapot made with holes around the body? Or one made of woven fabrics, of silk with lace and buttons, wood, and coins?
You do so with tongue in cheek and an intellectual, fine art sensibility.
Dona Z. Meilach tackles the burgeoning activity of teapot making and collecting with over 450 dazzling color images of teapots from 227 artists in fourteen countries.
She begins with a short history of why teapots evolved as late as the 1500s, when tea had already been consumed for generations.
She introduces artists and talks about collectors, what they buy, where to buy, and ideas for displaying collections. And she plumbs her vast knowledge of artist's techniques and materials and produces an electrifying compilation that will keep you turning pages and coming back again and again.
With teapot collecting escalating so rapidly, this book is a must for private and corporate collectors, decorators, and museum curators to learn who is doing what, where, how, and why.
Information
Format: Hardback
Pages: 248 pages, 450 color photos
Publisher: Schiffer Publishing Ltd
Publication Date: 31/05/2005
Category: Antiques & collectables
ISBN: 9780764322143
Free Home Delivery
on all orders
Pick up orders
from local bookshops