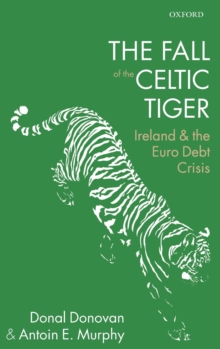 The Fall of the Celtic Tiger : Ireland and the Euro Debt Crisis
Hardback
Description
By 2000, Ireland had achieved a remarkable macroeconomic performance: 10% economic growth annually, a budget surplus, and a very low debt to GDP ratio.
Emigration had disappeared and there was significant immigration from Eastern Europe.
Yet, by November 2010, output had collapsed to an extent unprecedented among post war industrial countries, the budget deficit was out of control, and the debt to GDP ratio had soared to around 100%.
In an unprecedented development,Ireland was forced to apply for an emergency bail-out package from the Troika (European Commission, European Central Bank, and the International Monetary Fund). This book examines how the Celtic Tiger, a high growth performing economy, fell into a macroeconomic abyss.
It is a story that shows how the Irish economy moved from a property market crisis to a banking crisis and fiscal crisis, and how these three crises led to a fourth crisis, the massive financial crisis of 2010.
Against the backdrop of the newly created Eurozone, the book demonstrates how a housing boom was transformed into a property market bubble through excessive credit creation. Accompanying the market bubble, buoyant property related taxes enabled a profligate government to over spend and under tax.
Few, either in Ireland or Europe, recognised the danger signals because the prevailing economic ideology suggested that financial markets could self-regulate. The book analyses the roles of banks, builders, developers, regulators (the EU, the ECB, the Central Bank of Ireland, and the Irish Financial Regulator), politicians, economists, the media, and a property driven populace during the various stages of the downfall of the Celtic Tiger.
It pays particular attention to the decisions to provide a highly controversial comprehensive guarantee for the covered Irish banks in 2008, and the subsequent events that left the government with no alternative butto request the 2010 bail out.
Throughout the book, attention is devoted to the allocation of responsibilities for the unfolding crises.
First, who or what was responsible for what happened and in what sense?
Second, could specific actions have been taken at various stages to prevent the finalrecourse to the bail out?
Finally, the book addresses the future of the Celtic Tiger.
It discusses the impact of measures to help resolve the current Euro debt crisis as well as the underlying lessons to be learned from this traumatic period in Ireland's economic and financial history.
Information
Format: Hardback
Pages: 340 pages
Publisher: Oxford University Press
Publication Date: 15/04/2013
Category: Macroeconomics
ISBN: 9780199663958
Free Home Delivery
on all orders
Pick up orders
from local bookshops