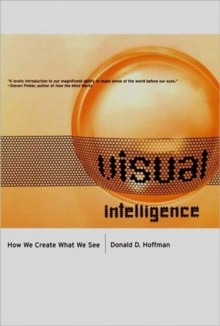 Visual Intelligence : How We Create What We See
Paperback
Description
Cognitive scientist Donald Hoffman's exploration of the extraordinary creative genius of the mind's eye "has many virtues, of which sheer intellectual excitement is the foremost" (Nature).
Hoffman explains that far from being a passive recorder of a preexisting world, the eye actively constructs every aspect of our visual experience.
In an informal style replete with illustrations, Hoffman presents the compelling scientific evidence for vision's constructive powers, unveiling a grammar of vision - a set of rules that govern our perception of line, color, form, depth, and motion.
Hoffman also describes the loss of these constructive powers in patients such as an artist who can no longer see or dream in color and a man who sees his father as an impostor.
Finally, Hoffman explores the spinoffs of visual intelligence in the arts and technology, from film special effects to virtual reality.
This is, in sum, "an outstanding example of creative popular science" (Publishers Weekly).
Information
Format: Paperback
Pages: 320 pages, 20 full-color and 130 black-and-white illustrations
Publisher: WW Norton & Co
Publication Date: 17/02/2000
ISBN: 9780393319675
Free Home Delivery
on all orders
Pick up orders
from local bookshops
Reviews
Showing 1 - 2 of 2 reviews.
Review by abraxalito
16/06/2015
I discovered Donald Hoffman from reading edge.org where I was entranced by his answers to the annual questions. I've become a big fan of his philosophy of 'conscious realism' - that our world (what we refer to as reality, the philosopher's world of tables and chairs) is a multi-modal, species specific user interface to something deeper. This book goes some way towards explaining how this is so.
Review by RajivC
16/06/2015
I like this book, and in one sense there is no need to give it a three star rating. The book has been very well laid out, and systematically guides through the reader through the various aspects of seeing, and how we form images in our brain and the "confusion" between the three and two dimensional world, in how we draw out three dimensional images on the two dimensional space. There is enough here to entertain and educate the reader. The only reason I give this a three star reading, and not a four star rating, is that I, personally, would have been happier with a more engaging style in writing.
Also by Donald David Hoffman