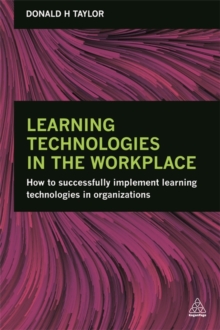 Learning Technologies in the Workplace : How to Successfully Implement Learning Technologies in Organizations
Paperback
Description
Knowledge was once power - difficult to find, slow to transmit and coveted.
Now we can access almost the sum total of human information with a swipe of our thumbs.
The impact on the knowledge economy has been vast, leaving learning and development (L&D) professionals wondering how to keep pace.
Many organizations naturally turn to technology to ensure workplace learning at scale and at speed, but stumble when it comes to successfully deploying and using it.
Learning Technologies in the Workplace examines 16 years of learning technology implementations to find the secrets behind the most successful. Examples in the book from the Hershey Company and BP, airlines, tech companies and manufacturers point to four common factors.
Successful learning technology teams all have APPA: a clear aim, a people focus, a wide perspective and a pragmatic, can-do attitude.
Learning Technologies in the Workplace gives readers practical pointers for each of these four points, helping them implement and use learning technologies well, with particular emphasis on the essential skill of identifying stakeholders and winning their support.
Free Home Delivery
on all orders
Pick up orders
from local bookshops