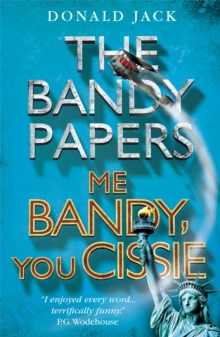 Me Bandy, You Cissie
Paperback / softback
Description
Peace has broken out and World War I flying ace and all-round chancer Bartholomew Bandy isn't exactly making a success of being a commercial pilot in the USA.
But when a job lot of aircraft bits purchased with the last of his pay turns out to be a complete Vickers Vimy bomber, he feels his luck has changed. With the help of his very tall, very sweet girlfriend Cissie, and the hindrance of his very short, very bad and beautiful girlfriend Dasha, Bart smashes (literally) straight into the exciting new world of the movies.
Not an ideal career for someone whose face, as he says himself, resembles that of a Tibetan yak, but then absolutely nothing about Bart is ideal. With the blackest of black comedy and seat-of-the pants escapades, Donald Jack's series about a young pilot is uniquely funny and compelling. What people are saying about The Bandy Papers:"Reading can lead to involuntary bursts of loud laughter.""Very descriptive, full of air combats and written with a fine eye for period detail . . . there is quite simply no finer book of its kind. Highly recommended.""It is clear that Bandy likely should've been killed several times, but very likely the Grim Reaper was laughing too hard to hold his scythe straight . . .""Hysterically funny! . . . each book is another installment in the continuing saga of a Canadian and his adventures in war, the world, and women.""I have yet to find another author with the wit and humor of Donald Jack."Editorial reviews:"I enjoyed every word . . . terrifically funny." P.G. Wodehouse"Jack does more than play it for laughs . . . The mingling of humor and horror is like a clown tap-dancing on a coffin, but Jack is skillful enough to get away with it." Time Magazine"Funny.
Very. Donald Jack has as light a touch with this fragile art as his hero has on throttle of a Sopwith Camel.
Excessive corn is avoided in favour of wit and a delight in life." New York Times"Bartholomew Bandy is the most remarkable hero (or anti-hero) since Harold Lloyd impersonated the Freshman." Chicago Tribune"To know Bandy is to love him . . . you tend to gallop through and come hurtling out at the end panting for more." The Sunday Sun"For those to whom Bandy is a newcomer, what a treat is in store." Toronto Star
Information
Format: Paperback / softback
Pages: 336 pages
Publisher: Prelude Books
Publication Date: 30/11/2017
Category: War & combat fiction
ISBN: 9781911440482
Free Home Delivery
on all orders
Pick up orders
from local bookshops