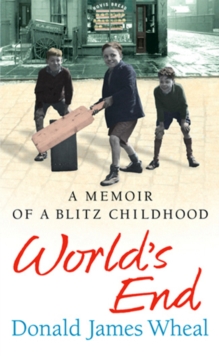 Description
World's End is the story of Donald Wheal(1)s childhood in Chelsea's World's End at the height of the Second World War. Not for him the privileged bohemian world of Chelsea a few hundred yards away.
Descended from rural immigrants, ladies of the night and bare-knuckle fighters, Donald Wheal(1)s upbringing took place amidst grimy factories and generating plants, illegal street bookmakers, dog tracks, tenements and street walkers who plied their trade in Piccadilly and Soho.
World's End is the story of how he and his family struggled free from this underclass.
It is also an individual history of the Second World War, of a small boy(1)s grappling with the bitter separation of evacuation, the return to an already battered London, the wonderland of bomb-damaged houses to play in, and the nights of terror as the Blitz returned.
Information
Format: Paperback
Pages: 368 pages
Publisher: Cornerstone
Publication Date: 15/03/2006
Category: Biography: general
ISBN: 9780099474166
Free Home Delivery
on all orders
Pick up orders
from local bookshops
Reviews
Showing 1 - 1 of 1 reviews.
Review by AdonisGuilfoyle
16/06/2015
This account of growing up during the Second World War in World's End, Chelsea, needs a far more serious, 'literary' cover to do the subject and the author justice. Truly! I was interested in reading about that part of London anyway, but when my copy arrived at the library, I thought, 'Here we go: another lightweight, 'family saga'-style self-published memoir', but no, Donald James makes this a truly emotional read. Perhaps because he's a 'proper' author, and not just an amateur spinning a cathartic tale, James' account is amusing, poignant, rewarding and endlessly interesting. I love how he describes his supportive parents, 'good' and 'bad' grandmothers, and the many other real life 'characters' from the World's End, with such fond memories that the reader almost believes that they knew these people too. Far from a series of personal vignettes, however, James' story is paced like a fictional adventure, with downed German planes and the air raid which wiped out a good section of his community. Even the history of Cremorne Gardens is fascinating to read! (Surely there must be more accounts of this 'infamous' London pleasure garden?)Having lived through the Blitz, or even living in London, is thankfully not a requirement for enjoying Donald James' captivating memoir - thanks to the author's vivid descriptions and engrossing narrative, anyone can imagine the hardship, heart and heroism of World's End.