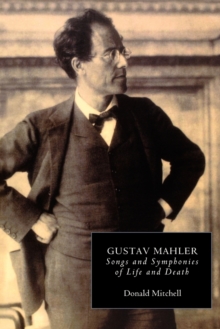 Gustav Mahler - Songs and Symphonies of Life and Death. Interpretations and Annotations
Paperback / softback
Description
A monument in Mahler studies, this volume concentrates on the composer's vocal music and, in particular, on some of his most famous, most original and best loved compositions: the late Rueckert orchestral songs and Kindertotenlieder; Das Lied von der Erde, one of the composer's supreme masterpieces, and the vast Eighth Symphony.
Much new ground is broken but the author bases his conclusions on a meticulous examination of the principal manuscript sources, especially those for Das Lied.
He offers an unprecedented exploration of the original Chinese texts for that work and indeed of the whole Oriental dimension of Mahler's last and greatest song-cycle.
Time and time again, the composer's sketches back up the author's reading of these massive scores and there will be few among this book's readers who will not find a familiar passage or movement sharply illuminated by fresh insights and information.
The scope of the book, despite its concentration, is immensely wide; and so is the readership it addresses: Mahler scholars, performers, and general readers. DONALD MITCHELL was Founder Professor of Music at the University of Sussex.
He is currently Visiting Professor at Sussex and York, and formerly at King's College, London.
Information
Format: Paperback / softback
Pages: 664 pages
Publisher: Boydell & Brewer Ltd
Publication Date: 17/09/2002
Category: Romantic music (c 1830 to c 1900)
ISBN: 9780851159089