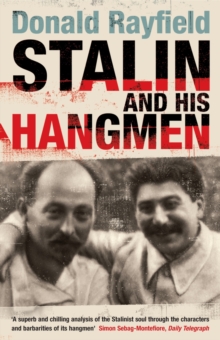 Stalin and His Hangmen : An Authoritative Portrait of A Tyrant and Those Who Served Him
Paperback
Description
Stalin, like Hitler and other tyrants, won and held power because he had collaborators - hangmen.
Drawing on newly released archival material, Donald Rayfield gives us a fuller and more colourful picture of Stalin's inner circle than ever before.
Stalin was not the sole author of Stalinism. What motivated his chiefs of police, Feliks Dzierzynski, Viacheslav Manzhinsky, Genrikh Iagoda, Nikolai Ezhov and Lavrenti Beria?
What did they want? What were their relations with the regime and its ruler?
How did their upbringing and experience mould them? And how does the terror they create connect with the terror they felt?
Stalin and His Hangmen reconstructs the psychological mechanism of a whole regime and what it held together.
The extent of the misery caused by Stalin and his Hangmen can be compared in Europe only to that brought about by Hitler and his henchmen.
But Stalin's heritage is, if possible, even worse than Hitler's.
His rule enslaved three generations, not one, the horror of what he did has not yet been fully understood and his countrymen have not yet found the strenth to disavow him.
All the more important, then, that this diabolical tale should be told.
Information
Format: Paperback
Pages: 592 pages
Publisher: Penguin Books Ltd
Publication Date: 31/03/2005
ISBN: 9780141003757
Free Home Delivery
on all orders
Pick up orders
from local bookshops
Reviews
Showing 1 - 3 of 3 reviews.
Review by Miro
16/06/2015
Donald Rayfield, professor of Russian and Georgian at London University's Queen Mary College took a rare opportunity with the opening of the Soviet archives in the early 1990's to research this book. He had access to both the Presidential and KGB archives (now largely reclassified)and used them to build a thoroughly documented picture of Stalin's repression against the Russian people, through his Cheka, NKVD and OGPU secret police agencies. Rayfield follows the histories of the heads of these organizations; Dzierzynski, Menzhinsky, Iagoda, Ezhov and Beria.The inheritors of the OGPU are still in power (FSB) and as he says, "Stalin and his secret services are still lauded in print and in official speeches. The official myth, passively or actively believed by much of the population, is that Stalin's murders and terrorism were aberrations into which he was inveigled by Ezhov and Beria."Nothing could be further from the truth. He personally ordered mass murders and deportations by professional group, race and region, fixing quotas, using every kind of fabrication and received detailed reports. If he was dissatisfied with progress, his security chiefs were characteristically told that he would "smash their face" (much humour among his associates), "go fuck your mother" or "you're next" to get things moving. It's estimated that 1 in 10 males in the Soviet Union died in one way or another from the activities of this criminally predatory paranoid.
Review by john257hopper
16/06/2015
Despite my familiarity with reading about the horrors of Stalin's rule, I found this a more than usually deeply depressing read, though interesting in shedding light on the background of some of the less well known horrible personalities in the history of Cheka-OGPU-NKVD. Perhaps the most shocking aspect is the continuing high esteem in which some of these characters are held in Putin's Russia, witnessed by the issuing of Cheka anniversary postage stamps depicting Artuzov and Balitsky, not two of the highest leaders but nevertheless deeply horrible and murderous characters; and the continued existence of the Belomorkanal cigarette brand, equivalent to an Auschwitz cigarette brand subsisting in Germany.
Review by mareki
16/06/2015
An impressive grasp of narrative skillfully handled stops the continuity that runs through the various manifestations of the Cheka/KGB, up to the present day Russian security services & Putin, from becoming monotonous. The author has a literary background & there is some fascinating stuff on writers & intellectuals, esp Georgian thinkers. It is depressing to read that Stalin was no simple thug, but an intelligent & well read man. The style occasionally reads quite strangely, with the odd misjudged simile & metaphor, but Rayfield brings more to the subject than just the cold eye of the archivist.