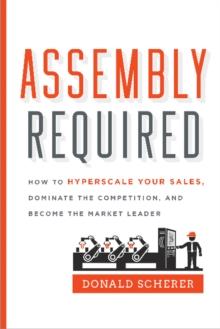 Assembly Required : How to Hyperscale Your Sales, Dominate the Competition, and Become the Market Leader
Hardback
Description
Only one company can lead, prosper, and win in any technology market.
Will it be yours? The marketplace leader, or Marketplace Gorilla, will win 50 percent of the revenue and 75 percent of the profits in a given market space.
Every new enterprise hopes to reach this status, but most will fail.
Whether a company employs a direct or inside sales approach, neither methodology will allow a sales team to acquire enough customers to dominate the market.
Author Donald Scherer makes it clear out of the gate why these traditional sales methods will simply not work for most technology companies.
Instead, he provides step-by-step instructions on how you can HYPERSCALE your sales operation by building a high-velocity sales assembly line based on the principles used by modern manufacturers.
Employing these techniques will help your company mass-produce sales while simultaneously lowering the costs of sales; a powerful combination that leads to incredibly profitable growth, which eliminates the need for enormous amounts of institutional funding.
Scherer's techniques are based on the experiences of CrossBorder Solutions, an unfunded, undercapitalized software company that was sold to Thomson Reuters for a home-run valuation.
He further refined his approach as the CEO of AssemblySales.com, a SaaS company that helps early-stage companies hyperscale their sales operations.
Information
Format: Hardback
Pages: 232 pages
Publisher: Greenleaf Book Group LLC
Publication Date: 01/01/2017
Category: Entrepreneurship
ISBN: 9781626344129
Free Home Delivery
on all orders
Pick up orders
from local bookshops
Also by Donald Scherer