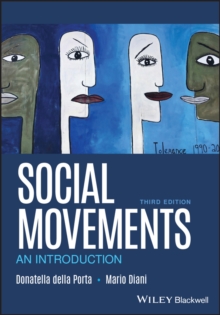 Social Movements : An Introduction
Paperback / softback
Description
A new, fully-revised and updated edition of the leading introduction to social movements and collective action - covers a broad range of approaches in the social sciences. Now in its third edition, Social Movements is the market-leading introductory text on collective action in contemporary society.
The text draws from theory-driven, systematic empirical research from across the social sciences to address central questions and concepts in the field.
Sophisticated yet reader-friendly chapters offer critical analyses of relevant literature whilst exploring important issues and debates. The global political landscape has undergone significant changes in the years since this book's initial publication, such as the spread of online protests, the resurgence of nationalist and right-wing activity, global revolts, and increased social and economic polarization.
This thoroughly updated edition offers fresh discussions of recent social movements against austerity from around the world, new empirical examples, references to recent episodes of contention, an expanded comparative approach to social movement theory in the scientific literature, and more.
Positioned at the intersection of sociology and political science, this book: Presents an empirical and engaging exploration of contemporary social movementsDiscusses topics such as organizing within social movements, eventful protests, political opportunities, symbolism and identity in collective action, and social changeHighlights how core mechanisms of collective action operate in different movements, past and presentProvides a conceptual methodology useful for social science students and researchers alikeHighlights how core mechanisms of collective action operate in different movements in the past and present Written by two internationally recognized experts in sociology and political science, the third edition of Social Movements: An Introduction is an essential course text and a must-read for students and scholars of sociology, political sociology, political science, and social movement studies.
Information
Format: Paperback / softback
Pages: 352 pages
Publisher: John Wiley and Sons Ltd
Publication Date: 02/04/2020
Category: Political science & theory
ISBN: 9781119167655
Also by Donatella della Porta | View all