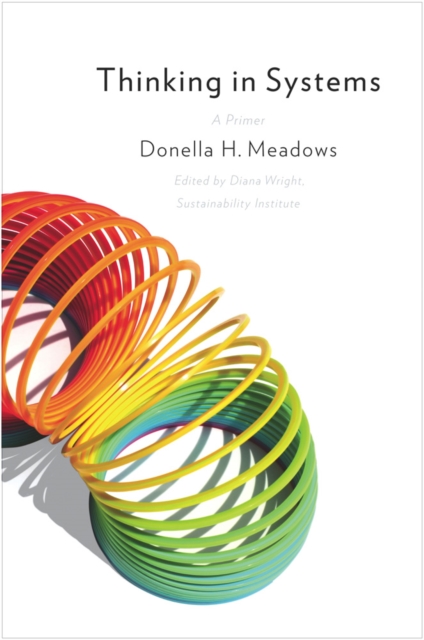 Thinking in Systems : International Bestseller
Paperback / softback
Description
The classic book on systems thinking, with more than half a million copies sold worldwide!This is a fabulous book.
This book opened my mind and reshaped the way I think about investing.
ForbesPerfect for fans of Kate Raworth, Rutger Bregman and Daniel Kahneman!The co-author of the international best-selling book Limits to Growth, Donella Meadows is widely regarded as a pioneer in the environmental movement and one of the world's foremost systems analysts .
Her posthumously published Thinking in Systems, is a concise and crucial book offering insight for problem solving on scales ranging from the personal to the global.
This essential primer brings systems thinking out of the realm of computers and equations and into the tangible world, showing readers how to develop the systems-thinking skills critical for 21st-century life. Some of the biggest problems facing the world war, hunger, poverty, and environmental degradation are essentially system failures.
They cannot be solved by fixing one piece in isolation from the others, because even seemingly minor details have enormous impact. While readers will learn the conceptual tools and methods of systems thinking, the heart of the book is grander than methodology.
Donella Meadows reminds readers to pay attention to what is important, not just what is quantifiable, to stay humble, and to stay a learner. No matter what industry or career you're in, Thinking In Systems will bring clarity to the complicated, crowded and interdependent networks that make up the world today.
Thinking in Systems helps readers avoid confusion and helplessness, the first step toward finding proactive and effective solutions.
Information
Format:Paperback / softback
Pages:240 pages, Index; Bibliography; Diagrams; Illustrations, black and white
Publisher:Chelsea Green Publishing Co
Publication Date:14/09/2015
Category:
ISBN:9781603580557
Information
Format:Paperback / softback
Pages:240 pages, Index; Bibliography; Diagrams; Illustrations, black and white
Publisher:Chelsea Green Publishing Co
Publication Date:14/09/2015
Category:
ISBN:9781603580557