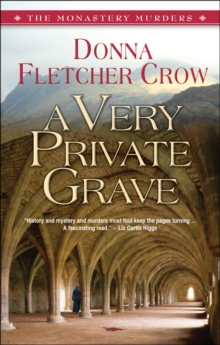 A Very Private Grave
Paperback
Description
Felicity Howard, a young American studying at the College of the Transfiguration in Yorkshire, is devastated when she finds her beloved Fr.
Dominic bludgeoned to death and Fr. Antony, her church history lecturer, soaked in his blood ...'A Very Private Grave' is a contemporary novel with a thoroughly modern heroine who must learn some ancient truths in order to solve the mystery and save her own life as she and Fr.
Antony flee a murderer and follow clues that take them to out-of-the way sites in northern England and southern Scotland.
The narrative skillfully mixes detection, intellectual puzzles, spiritual aspiration, romance, and the solving of clues ancient and modern. The book is in the same genre as Umberto Eco's The Name of the Rose, the novels of Kate Charles and Julia Spencer-Fleming and P.
D. James' Death in Holy Orders. This is the first in a series of priest/sleuth novels featuring Felicity Howard and Fr.
Antony.
Information
Format: Paperback
Pages: 384 pages
Publisher: Lion Hudson Plc
Publication Date: 01/06/2010
Category: Crime & mystery
ISBN: 9781854249685
Free Home Delivery
on all orders
Pick up orders
from local bookshops
Reviews
Showing 1 - 5 of 12 reviews.
Previous | Next
Review by cbl_tn
16/06/2015
Seminary student Felicity Howard is honored to receive a visit from Father Dominic shortly after his return from a pilgrimage. Father Dominic is murdered within minutes of leaving Felicity's flat. At the same time, Felicity's flat is ransacked. The gift Father Dominic gave her as he left suddenly seems very important. It leads Felicity and her church history lecturer, Father Antony, on a trip across Northumberland as they retrace Father Dominic's pilgrimage while looking for clues to his murder.I loved the author's trilogy on the Christian history of England, Ireland, and Scotland. She makes church history come to life, and her descriptions of people, places, and events are so vivid that it seems she must have been an eye witness. The best part of this book, for me, is the life of St. Cuthbert woven throughout it. It brought back memories of a group tour I went on several years ago that included visits to several of the sites connected with Cuthbert: the Holy Island of Lindisfarne, Bamburgh Castle, and Durham Cathedral. Since the book doesn't include a map, it helped that I was able to picture these places in my mind as I read.Felicity's character was a bit annoying to me and I never quite got over it. She's studying for the priesthood, yet she seems unfamiliar with the Bible and doesn't recognize some fairly well-known passages when they're quoted to her. I never figured out how a person who loves classical languages could dislike history so much. Aren't classical languages and history natural companions? She surely hasn't been reading modern works in classical languages. I identified much more with Father Antony, and it's the prospect of spending more time with him, rather than Felicity, that will entice me to read the forthcoming second book in the series.This book reminds me of Elizabeth Peters' <i>The Camelot Caper</i>, where the hero and heroine are pursued across the south of England as they try to solve a historical puzzle. Readers who enjoy Elizabeth Peters' romantic suspense novels may enjoy this book. Although Christianity and church history are central to the book, it isn't "preachy" like so much of the Christian fiction out there. Readers who like their Christian fiction weighted more toward thought than emotion will probably like this book.This review is based on a copy provided by the publisher through LibraryThing's Early Reviewers program.
Review by lchav52
16/06/2015
Rarely do I fail to finish a book, but this one has been marked DNF, for the time being. I see from its other ratings that mine stands alone - I think it may be either that, (1) this is just not my kind of book, or (2) it isn't right for now. I will put it aside and give it another try at some future period, at which time my opinion may differ. If so, I will report then.A couple of things that bothered me: I could not get interested in the characters, who seemed, well, a bit flighty. There were some implausibilities in the plot that I just couldn't buy - not only the head of a religious community, but numerous other members conspire to spirit away the police's top suspect for the murder - one who had been discovered with the victim's blood all over him. I guess it was implausible to me that the police would have initially let him roam free in the first place. Just at the moment when the fleeing protagonists need a lift, another associate from the monastery shows up, coincidentally, with a car. These are not, perhaps, fatal flaws, and no more than other books employ, but they struck a discordant note for me.You may well enjoy the book. At this time, I did not.
Review by thornton37814
16/06/2015
Felicity and Anthony find themselves following the path of St. Cuthbert's coffin across northeastern England when Father Dominic, one of the guardians of the secret, turns up murdered at the College of the Transfiguration where Felicity is enrolled and Anthony teaches church history. Their clues come from ancient documents and church history. It's a mystery where past and present both play a role. Donna Fletcher Crow once again proves that she writes at a level above most Christian authors. She is able to weave lessons of forgiveness into the narrative in a manner that seems natural. The background in church history which is essential to the understanding of this mystery based on the life of St. Cuthbert is set off in italics, making it clear what is the past and what is the present. Some elements of the story reminded me of romantic suspense fiction, such as that written by Phyllis Whitney or Victoria Holt, even though the romance element was minor. This was an enjoyable read, but will probably be preferred by those who prefer historical mysteries and romantic suspense stories than by many readers of the Christian fiction genre. This book was received through LibraryThing's Early Reviewer program with the expectation that a review would be written.
Review by Readanon
16/06/2015
After a somewhat slow start, this book really picked up and became a very enjoyable and interesting read. While Felicity's character seemed a little childish at times, especially considering she was studying to become a priest, she improved somewhat over the course of the book. I enjoyed the religious history provided and look forward to seeing more of these characters in future books.
Review by cindysprocket
16/06/2015
Really enjoyed the characters in this modern/historical mystery. I will be waiting to find out how the characters will develop in the coming books. It also was like getting lessons in Celtic religion. Which was interesting.
Also by Donna Fletcher Crow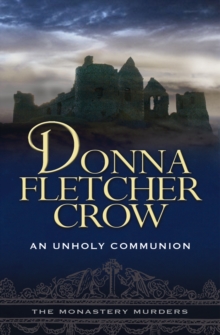 Also in the Monastery Murders series