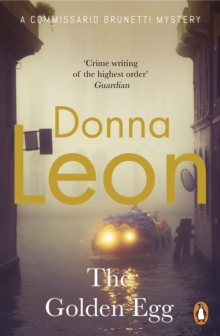 The Golden Egg : (Brunetti 22)
Paperback
Part of the Brunetti series
Description
Celebrated by The Times as one of the 50 Greatest Crime Writers, Donna Leon brings Venice to life in the twenty-second Brunetti novel of this bestselling series, where our detective must uncover the mystery surrounding a mute man's murder. When making routine enquiries into a possible bribery case that could embarrass the mayor - a humiliation Vice-Questore Patta is very keen to avoid - Commissario Brunetti receives a call from his wife, Paola, who is evidently very upset.
The middle-aged deaf mute with the mental age of a child who helped out at the Brunetti's dry cleaners has been found dead - an `accidental' overdose of his mother's sleeping pills - and Paola is distraught by the news.
To the neighbourhood he was just the `boy' who helped out, but nobody knew much about him - not even his name.
That a soul could have lived such a joyless life is too much for Paola to bear, and she asks Guido if he can find out what happened.
It is a surprise to Brunetti just how little was known about this man-child - there are no official records to show he even existed.
The man's mother is angry and contradictory when questioned about his death, and Brunetti senses that there much more to the story than she is willing to tell.
With the help of Inspector Vianello and the ever-resourceful Signorina Elettra, perhaps Brunetti can get to the truth and find some measure of solace.
Information
Format: Paperback
Pages: 352 pages
Publisher: Cornerstone
Publication Date: 06/03/2014
Category: Crime & mystery
ISBN: 9780099584971
Free Home Delivery
on all orders
Pick up orders
from local bookshops
Reviews
Showing 1 - 3 of 3 reviews.
Review by Eyejaybee
16/06/2015
The early novels in this series were marvellous, combining well-structured plots with fascinating depictions of life in Venice and an empathetic and very appealing central character. Brunetti remains a very engaging and likeable detective, and Venice continues to feature almost as a supporting character, but Donna Leon seems to have lost the knack of creating, or at least sustaining, the reader's interest in her plot.This novel surrounds the death of David, a deaf and dumb man who had 'worked' in a local launderatte, helping to fold and iron clothes, and occasionally make deliveries to nearby customers. He is found dead, after taking a subsantial overdose of tablets. The initial conclusion is that he committed suicide, or maybe even took the pills accidentally, believing that they were sweets. Egged on by his wife, Paola, Brunetti looks more deeply into the circumstances of the death and, as other incidents ensue, comes to believe that David was in fact murdered. Meanwhile, his awful boss, Vice-Quesore Patta, has Brunetti liaising with the local municipal law enforcement branch to pursue a minor chore at the behest of the city's mayor. In her earlier novels Ms Leon would have made both of these story lines sparkle in a way to entice the reader to race through the book, but now it became almost a burden.Amazingly this was the twenty-second outing for Commissario Brunetti, but unless I encounter rave reviews of it, I doubt if I shall be spending much time on number twenty-three.
Review by DrLed
16/06/2015
Synopsis: A deaf/mute man is found dead, an apparent suicide victim. Paola is concerned because she saw him working in a dry cleaners she frequents, but never really paid attention to him. She wonders if more contact with people would have made his life more bearable. When Brunetti investigates, he finds that there is no record of this man, which is very unusual for document mad Italy. This also raises his curiosity, leading him into scandals involving wealthy families.Review: This is classic Brunetti, with all of the examination of human motives, feelings, and values. The story is convoluted, as are most people's lives, and makes the reader wonder about where our empathy should leave off and suspicions should begin.
Review by abbottthomas
27/08/2015
No crime in the usual sense for Brunetti this time, but what turns out to being truly horrifying behaviour. His investigation into the apparently accidental death of a middle-aged deaf-mute is unimpeded by any demands of the Questura once he has cleared up a minor case of bribery for the Vice-Questore: he solves this in a short conversation (in Veneziano, of course) with a cousin of one of his uniformed officers and is then free to travel the canals with Foa and use Elettra's hacking skills to his heart's content. It is fascinating that Brunetti finds himself almost as much an outsider as Patta when he talks to the neighbours of the dead man - <I>omertà</I> works at a city block level - but with patience and tact the terrible truth is exposed. The final twist, which ensures that moral justice prevails, is unexpected and very neat.The book is slower moving than most of the series and might disappoint those readers hoping for a corpse in the Grand Canal so perhaps should be deferred until the Brunetti habit is firmly established.