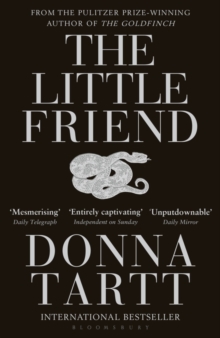 The Little Friend
Paperback
Description
Twelve-year-old Harriet is doing her best to grow up, which is not easy as her mother is permanently on medication, her father has silently moved to another city, and her serene sister rarely notices anything.
All of them are still suffering from the shocking and mysterious death of her brother Robin twelve years earlier, and it seems to Harriet that the family may never recover.
So, inspired by Captain Scott, Houdini, and Robert Louis Stevenson, she sets out with her only friend Hely to find Robin's murderer and punish him.
But what starts out as a child's game soon becomes a dark and dangerous journey into the menacing underworld of a small Mississippi town.
Information
Format: Paperback
Pages: 576 pages
Publisher: Bloomsbury Publishing PLC
Publication Date: 06/06/2005
ISBN: 9780747573647
Other Formats
EPUB from £2.39
Paperback from £8.65
Hardback from £90.00
Free Home Delivery
on all orders
Pick up orders
from local bookshops
Reviews
Showing 1 - 5 of 6 reviews.
Previous | Next
Review by Clurb
16/06/2015
In itself I suppose this book held its own, but having read it after Secret History I was bitterly disappointed. It had nothing of the complex characterisation I was expecting.
Review by deargreenplace
16/06/2015
I really didn't get this book at all. Yes, it was well-written and engaging enough, but the conclusion left me feeling rather annoyed that I'd persevered until the end.
Review by gercmbyrne
16/06/2015
Not as good as the Secret History, but it's still a very good book - that's my one line review for this :) I liked it but having read the Secret History first I was slightly disappointed. However taken on its own merits, it is a clever, engaging story and an impressive manipulation of teh reader's expectations and understanding, not to mention our emotions. Well worth the read.
Review by MisterJJones
16/06/2015
The Little Friend doesn't seem to have attracted as much positive critical acclaim as Tartt's The Secret History, but it contains the same elements that made the latter a success: absorbing, vividly painted characters, a slow moving but tightly crafted plot, and archetypal timeless American settings. Harriet has been raised largely by her grandmother and great aunts while her mother gracefully slips into a drug induced haze brought on by the death of Harriet's brother when she was a baby. 12 years later, Harriet resolves to solve the mystery of his death, and becomes caught up in the small town criminal underworld of the deep south. Harriet does a good job of portraying Harriet's rather intense worldview, but I was more taken with the other characters, Harriet's grandmother and aunts, and the criminal dregs of Ratcliff family. I didn't feel Tartt's leisurely pacing in describing their thoughts and feelings fit well with the murder mystery story of Harriet's quest, and I suspect this may be one of the causes of other readers' dissatisfaction with the book: the slow plot makes the book hard going if you're not interested in the minor characters. The resolution is also a little ambiguous: I'm fairly sure I see what happened to Harriet's brother, but reading online it seems many readers disagree! There are also elements I don't quite understand - I really don't see the significance of Harriet's sister, for example.For me, The Little Friend is worth reading as a social commentary. The casual racism and petty-mindedness could make for a depressing read, but as with The Secret History somehow Tartt succeeds in leaving the reader uplifted.
Review by Jannes
16/06/2015
Inevitably,<i>The Little Friend<i>, Tartt's second novel have had a hard time living up to her first one, the juggernaut that is <i>[The Secret History]</i>, and when all is said and done, it kind of doesn't.This isn't to say that it's bad, by any means. <i>The Little Friend</i> is well-crafted, and gripping with a southern gothic feel of old glory and slow decay that you can't help yourself getting drawn into. The gallery of characters is rich and diversified and together with the suggestive and vivid descriptions of the town and almost gives the whole thing the feel of a collective novel.The plot has that same kind of slow buildup towards an inevitable crescendo, like an oncoming thunderstorm, that made <i>[The Secret History]</i> so excruciatingly good, but this time its unfortunately feels a bit directionless - events plod along, but with no real sense of connection between them, which is both fascinating in a way, but also distracting. The final act, while not exactly underwhelming, at the end falls a bit flat and I, at least, never got any real sense of closure of payoff. Many of the characters arcs where really understated and subtle, and while I understand that this was probably the point it didn't quite mesh with the grand scale of the main plot. In the end, very little got resolved, no mysteries where solved, and nothing really had changed.It's worth reading if you're into southern gothic, of if you really liked <i>The Little Friend</> (and frankly, who didn't?)