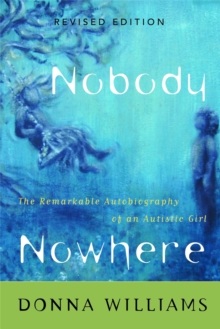 Nobody Nowhere : The Remarkable Autobiography of an Autistic Girl
Paperback
Description
Donna Williams was a child with more labels than a jam-jar: deaf, wild disturbed, stupid insane...
She lived within herself, her own world her foreground, ours a background she only visited.
Isolated from her self and from the outside world, Donna was, in her words, a Nobody Nowhere.
She swung violently between these two worlds, battling to join our world and, simultaneously, to keep it out.
Abandoned from all connection to the self within her, she lived as a ghost with a body, a patchwork of the images which bombarded her.
Intact but detached from the seemingly incomprehensible world around her, she lived in what she called 'a world under glass`.After twenty-five years of being misunderstood, and unable to understand herself, Donna stumbled upon the word 'autism': a label, but one which held up a mirror and made sense of her life and struggles, and gave her a chance to finally forgive both herself and those around her.Nobody Nowhere is disturbing, eloquent and ticklishly funny: it is an account of the soul of someone who lived the word 'autism' and survived in an unsympathetic environment despite intense inner chaos and incomprehension.
It describes how, against the odds, Donna came to live independently, achieve a place at university, and write this remarkable autobiography.
It is now an international bestseller, sold in over 14 languages throughout the world.
This is a book that will stay with you as one of the most exceptional works you will ever read.
Information
Format: Paperback
Pages: 192 pages
Publisher: Jessica Kingsley Publishers
Publication Date: 01/12/1998
Category: Autobiography: general
ISBN: 9781853027185
Free Home Delivery
on all orders
Pick up orders
from local bookshops
Reviews
Showing 1 - 1 of 1 reviews.
Review by IonaS
16/06/2015
This is quite a challenging book for me to review. It is an autobiographical account by an Australian girl called Donna who has "characters", as she terms them, named Carol and Willie.Donna adopted the identity of these "characters" at times of need, Willie appeared to her when she was about two and "was no more than a pair of piercing green eyes whcih could only be seen in the darkness". Willie became the self Donna directed to the outside world, with his glaring eyes and clenched fists. Willie had "a look of complete hatred". Carol was a girl Donna met at at early age who brought her home to her house. Donna wanted to live in Carol's world. When Donna became Carol, she smiled and laughed, and could act "relatively normal". Donna disappeared and Carol "took the stage".It would be interesting to learn how Donna's condition with her role-playing characters compares with that of those suffering from multiple personality disorder or whatever the correct term is nowadays.Though Donna may have had several symptoms characteristic of autism, such as problems with the understanding of certain concepts, she did succeed in establishing several amazingly close, though perhaps absolutely short-term, relationships both as a child and an adult, the adult relationships being with others suffering from similar difficulties as herself. But what I'm trying to say is, I don't connect autism, which is a condition where you not only have your own inner world, as I suppose Donna did, shut others out and often never even learn to speak, with a person capable of fluent speech and who establishes deep relationships. In fact reading this book makes me ponder over the whole matter of diagnoses - I have to think rather that according to the various ways we were treated/abused as children, we all suffer from various flaws in character, and when several/many individuals are discovered to possess a group of similar such flaws, this is then dubbed to be a particular "disorder". In fact, no matter what, we are all individuals, differing considerably from each other.Donna had various flaws and difficulties, but worked on all these by herself in order to turn into a more normally functioning human being. She explains to us her various cognitive problems, strange patterns of behaviour, etc, etc and it was a long process for her to make her own diagnosis, working as stated mainly on her own, though she did at one point find a nurturing friend and kindred spirit in the form of a psychiatrist, whom she herself sought out.She has a keen intellect and among her achievements completed a university education.Her mother was abusive, her father weak and passive, and the whole family (she had two brothers) was thus dysfunctional. The book was complete with photos of Donna as a child and later, and of her brothers and auntie. It was a bit shocking for me that the cover photo of Donna at the age of 3 or 4 is the spitting image of a photo of myself at the same age.The book is well-expressed, though still I haven't managed to comprehend the way Donna's mind worked and how she processed her early experiences. In the final pages Donna explains her various symptoms, their causes as she understands them and their symbolic meanings.It bothered me somewhat that the book had no chapters, ans this somehow made it seem a bit chaotic, as though her various experiences, chaotic in themselves, were piled up on top of one another and thrown towards us with no interludes.An interesting book from the psychological point of view, and well worth reading.