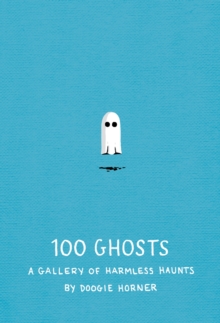 Description
Cut two eyeholes into a bedsheet and Boo! You've got yourself a classic Halloween icon. But what happens if you tie the bedsheet in knots? What happens when you set it on fire, hang it from a clothesline, or put a llama underneath it? 100 Ghosts is a brilliantly simple artistic exploration of an icon as familiar as a grinning jack-o-lantern or an arched black cat.
It's a delightful gift for adults, kids, and anyone who enjoys spooky design.
Information
Format: Hardback
Pages: 208 pages
Publisher: Quirk Books
Publication Date: 23/08/2013
Category: Ghosts & poltergeists
ISBN: 9781594746475
Free Home Delivery
on all orders
Pick up orders
from local bookshops
Reviews
Showing 1 - 3 of 3 reviews.
Review by krau0098
16/06/2015
I got a copy of this from Quirk Books in exchange for an honest review. This is a very cute little book that is a fun and quick read. It would make a good gift or table top book for ghost lovers.The book basically features a picture of a ghost on one page and then a description of the ghost on the adjoining page. For example there is an R2-D2 ghost, surprised ghost, pirate ghost etc. There is a short foreword that is pretty funny about why the author decided to make this cute little guide to different types of ghost. The book is not at all scary but more cute and humorous.The book is nicely put together with a cloth-like cover and nice thick paper. The drawings of the ghosts are funny and adorable. It is a very very quick read. It took me maybe 15 minutes tops to page through and read all the ghost types.This is pretty much meant as a curiosity or gift. As mentioned above it is a fun book to set out on the coffee table so that guests can pick up something cute and funny to read. It's also a good book to pick up at a party and say "Oh, look at this ghost, that's so funny!"Overall I enjoyed paging through this. There's not a ton of content here just cute/funny pictures of ghosts. Some of the pictures are very ironic in nature. The book is appropriate for all ages and I know my son (6 years old) got a kick out of looking through it. Recommended to those who like ghost humor, or cute little tabletop types of books.
Review by Ginerbia
16/06/2015
Adorable! 100 Ghosts is a delightfully simple collection of silly and clever ghosts. My favorites are the Kingsized-bed and the Used Car Lot ghosts. Everyone in my family enjoyed this book!
Review by nightprose
16/06/2015
Comedian, writer and designer Doogie Horner has created a fun, unique little book for all ages. He has created a new spin on the classic ghost. Here he shares ghosts in a variety of situations, doing normal, everyday things. However, it is a bit different when a ghost is doing these things!In this fun book of 100 ghosts, you will see a ghost eating spaghetti, an undercover cop ghost, and a marsupial ghost among many others. There are also famous ghosts like Marilyn Monroe, a Muppet, and R-2 D-2.This is truly a fun, creative, and entertaining book. It makes a great little gift book, or perhaps just for yourself!