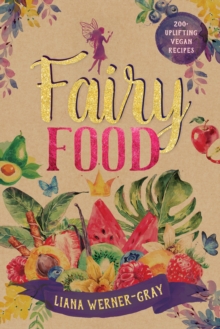 Fairy Food
Paperback / softback
Description
With this charming vegan recipe book, internationally best-selling angel author Doreen Virtue and natural-health advocate Liana Werner-Gray show you how to bring the magic of the fairies into your life.
They start by explaining that the fairies are angels of nature whose energy can bring vibrant healing to your life.
You'll then learn about all the fairy-approved foods, how to throw your own fairy parties, and how to bring the vibrant energy of the fairies into everything you do. Fairies are drawn to the higher energy of plants rather than the lower energy of animal products, so all the recipes in this book are vegan, nutrient-rich, and high-vibrational.
Fairy Food will assist you in cleansing your beautiful body of any heavy energy or excess weight that could be bogging you down.
You'll transform your relationship with food and learn how to enjoy the fairies' beloved sweets in a nourishing way.
After adopting the energy of a fairy lifestyle, you will feel so energized and nourished.
Information
Format:Paperback / softback
Publisher:Hay House Inc
Publication Date:01/12/2020
Category:
ISBN:9781401953386