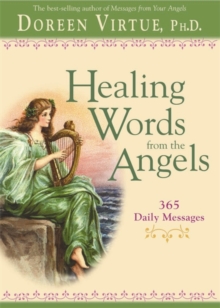 Healing Words From The Angels : 365 Daily Messages
Paperback
Description
Doreen Virtue has created this book to give you daily reminders to ask for your angels' assistance with anything and everything. All the entries within come directly from the angels, so by reading their words daily, you'll be immersed in the sweet energy of their love.
This will help you be more aware of your own guardian angels' messages for you. With the help of this book, each of your days will be filled with blessings, miracles and Joy!
Free Home Delivery
on all orders
Pick up orders
from local bookshops
Reviews
Showing 1 - 1 of 1 reviews.
Review by Sinetrig
16/06/2015
When I originally bought this book (out of curiosity) about 18 months ago, I really was ambivalent about the reality of angels. That said, my experience with the "Healing Words from the Angels" has resulted in a positive, significant change in the way I approach my daily living, as well as a strong sense of personal well-being. Where I once regarded my life basically as a mix of daily routine interspersed with either positive, welcome events (things that pleased me) or, negative, demanding circumstances (things that distressed me), I now do not categorize my life's experiences in those terms. And, thus, I realize my freedom to live my life, unencumbered by questionable preconceptions that I previously had accepted as "fact".Although the format of the book is designed for reading day by day throughout the year, I never read it in that sequence. Originally I used it only as an occasional "consultation" whenever I felt that I needed guidance to resolve a specific worry or concern. My method was to focus entirely on the particular circumstance while holding the book in my hand(s), and then to randomly open it to a page. Each time I opened to a page that pointed my attention to an attitude or an awareness which I discovered to be key to my resolving the question at hand, whether it be concerned with health, money, relationships, emotional upheaval, etc. And, because of the success of this method, I started to use it very frequently, and eventually the realization came that I could consult with the angels on all matters at anytime. "When you are willing to consult Divine guidance about everything, you are free to let go and enjoy living." - Day 116My original ambivalence about the reality of angels has become irrelevant for me. What is relevant to me, however, is that my body, my brain, and my emotions are the vehicles, not the powerhouse for my energy, creativity, love, joy, et al., and that connection to the powerhouse is essential for life to be life. "Healing Words...", for me, is of that connection.