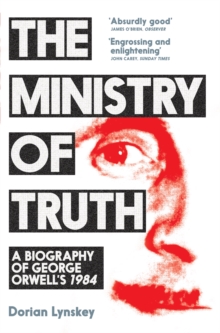 The Ministry of Truth : A Biography of George Orwell's 1984
Paperback / softback
Description
Longlisted for the Baillie Gifford Prize for Non-Fiction 2019Longlisted for the Orwell Prize for Political Writing 2020 'Fascinating . . . If you have even the slightest interest in Orwell or in the development of our culture, you should not miss this engrossing, enlightening book.' John Carey, Sunday TimesGeorge Orwell's 1984 has become a defining narrative of the modern world.
Its cultural influence can be observed in some of the most notable creations of the past seventy years, from Margaret Atwood's The Handmaid's Tale to the reality TV landmark Big Brother, while ideas such as 'thought police', 'doublethink', and 'Newspeak' are ingrained in our language. The Ministry of Truth charts the life of one of the most influential books of the twentieth century and a work that is ever more relevant in this tumultuous era of 'fake news' and 'alternative facts'.
Dorian Lynskey investigates the influences that came together in the writing of 1984 from Orwell's experiences in the Spanish Civil War and in wartime London to his fascination with utopian and dystopian fiction.
Lynskey explores the phenomenon the novel became when it was first published in 1949 and the changing ways in which it has been read over the decades since, revealing how history can inform fiction and how fiction can influence history. 'Everything you wanted to know about 1984 but were too busy misusing the word "Orwellian" to ask.' Caitlin Moran
Information
Format:Paperback / softback
Pages:400 pages
Publisher:Pan Macmillan
Publication Date:07/01/2021
Category:
ISBN:9781509890750
Also by Dorian Lynskey