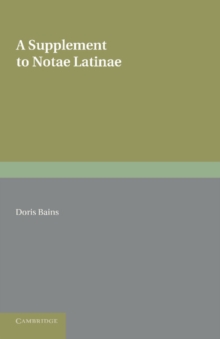 A Supplement to Notae Latinae : Abbreviations in Latin MSS. of 850 to 1050 AD
Paperback / softback
Description
Originally published in 1936, this book is intended to supplement W.
M. Lindsay's Notae Latinae of 1915, which examined Latin abbreviations of the early minuscule period (circa 700-850 AD).
Bains reviews symbols employed in the following two centuries, as well as a few which were developed more fully as a result of the rise of learning and science in the twelfth century.
This book will be of value to anyone with an interest in palaeography.
Information
Format: Paperback / softback
Pages: 88 pages
Publisher: Cambridge University Press
Publication Date: 17/10/2013
ISBN: 9781107684829