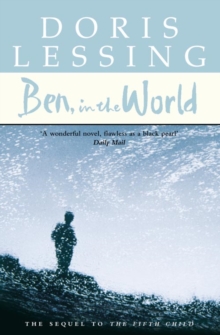 Ben, in the World
Paperback
Description
From Doris Lessing, winner of the Nobel Prize for Literature, the sequel to one of her most celebrated novels, `The Fifth Child'. `The Fifth Child', Doris Lessing's 1988 novel, made a powerful impact on publication.
Its account of idyllic marital and parental bliss shattered by the arrival of the feral fifth child of the Lovatts made for unnerving and compulsive reading.
That child, Ben, is the central character of this sequel, which picks up the fable at the end of his childhood and takes our primal, misunderstood, maladjusted teenager out into the world.
He meets mostly with mockery, fear and incomprehension, but with just enough kindness and openness to keep him afloat as his adventures take him from London to the south of France and on to South America in his restless quest for community, companionship and peace. Lessing employs a plain, unadorned prose fit for fables; again, we have a childlike perspective at the heart of the book; again, the world in all its malevolence and misapprehension swirls around at the edge, while, occasionally, a strong character steps forward to try to set a good example.
Information
Format: Paperback
Pages: 192 pages
Publisher: HarperCollins Publishers
Publication Date: 01/04/2001
ISBN: 9780006552291
Free Home Delivery
on all orders
Pick up orders
from local bookshops
Reviews
Showing 1 - 2 of 2 reviews.
Review by sunfi
16/06/2015
I read and enjoyed The Fifth Child, it wasn't like anything that I had ever read before. So I was looking forward to the sequel to it, Ben in the World. I enjoyed this sequel and found it to be a very sad reflection of our current society. Everyone seems to be out for only themselves and using anyone they must to get what they want. This was woven nicely into the story. It was heart-breaking reading about Ben and his being unable to find his way in the world. I'll never look at a homeless person the same way again.
Review by GingerbreadMan
16/06/2015
The idea of writing a sequel to "The fifth child" wasn't necessarily all that appealing to me. What was so haunting about the first book was that Lessing didn't take the easy way out - making Ben a victim always easy and pleasant to relate to. Instead the reader is forced to deal with this enigmatic, brutish, cat-killing little troll, having to think about the difficult question: what would I have done?Letting Ben himself lead the story in this book that takes up the thread more or less directly after "The fifth child" is risky. To make him too likeable and starry eyed would have felt out of tune and awkward, and might have sat heavily on the first book. I think Lessing pulls it off, mostly. I'm with Ben every single step of the way in this book. He remains a bit of a mystery to me, and I don't always like him. But the injustices and abuse he's exposed to here still bring tears to my eyes several times, and some of the scenes will stay with me for a long time. At times I feel slightly manipulated though, when Lessing kicks poor Ben around for me to suffer with him.