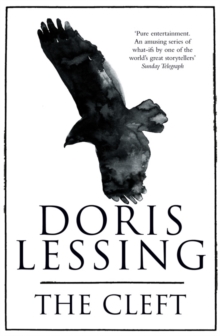 Description
Doris Lessing, winner of the Nobel Prize for Literature, invites us to imagine a mythical society free from sexual intrigue, free from jealousy, free from petty rivalries: a society free from men.An old Roman senator embarks on what may be his last endeavour: the retelling of the story of human creation.
He recounts the history of the Clefts, an ancient community of women living in an Edenic, coastal wilderness, in the valley of an overshadowing mountain.
The Clefts have no need, or knowledge, of men - childbirth is controlled through the cycles of the moon, and their children are always female.
But with the birth of a strange, new child - a boy - the harmony of their community is thrown into jeopardy.At first, the Clefts are awestruck by this seemingly malformed child, but as more and more of these threateningly unfamiliar males appear, they are rejected, and are exposed on the nearby mountainside, sacrificed to the patrolling eagles overhead.
Unbeknownst to the Clefts, however, these baby males survive, aided by the eagles, and thrive on the other side of the mountain.
It is not until a curious young Cleft named Maire goes beyond the geographical, and emotional, divide of the mountain that this disquieting fact is uncovered - forcing the Clefts to accept the prospect of a now shared world, and the possible vengeance of the wronged males.In this fascinating and beguiling novel, Lessing confronts head-on the themes that inspired much of her early writing: how men and women, two similar and yet thoroughly distinct creatures, manage to live side by side in the world, and how the specifics of gender affect every aspect of our existence.
Information
Format: Paperback
Pages: 288 pages
Publisher: HarperCollins Publishers
Publication Date: 07/01/2008
ISBN: 9780007233441
Free Home Delivery
on all orders
Pick up orders
from local bookshops
Reviews
Showing 1 - 3 of 3 reviews.
Review by brokenangelkisses
16/06/2015
The premise of this novel intrigued me immensely: a mythical, entirely female community, living in harmony with nature, is disrupted by the birth of a 'Monster' – a boy. Initially, the premise seems likely to deliver a thoughtful story, complicated as it is by being told through the voice of a Roman man; this is a situation which is guaranteed to lead to a slight distrust of the narrator, telling the women's story. The narrator's reluctance to tell the story if the women's initial cruelty to the Monsters is striking in contrast to their own insistent hatred and fear of the strange tubes and pipes that the males possess. As the novel progresses, you increasingly question his bias as he weaves parts of his own history into the tale and extrapolates from it to develop simple and apparently inflexible truths about human nature.There are some interesting ideas in the first section of the tale. The first fragmented bit of history that the 'historian' narrator recounts describes a world in which there was no awareness of females or mothers, for they were all female and mothers, and one can only define oneself by finding differences from the other. Moreover, they were scarcely aware of themselves as individuals, and many women were identified by the same title as they completed the same jobs. Interestingly, this is not really a utopia: the women are mindlessly content, but there is nothing in their mundane existence to envy. This is made clear by the narrator's description of them as incurious almost slug like creatures. They do not question. They procreate effortlessly but do not seek to create or explore. Later on in the novel, they are repeatedly contrasted against the active men, who build and hunt and generally develop more skills in decades than the women have since whenever they crawled out of the sea.Ultimately, this is my problem with the novel: the characters are gendered caricatures. While a few characters are picked out and followed, even these are slaves to their genes. The men are active; the women nag. The men want adventure and challenge; the women want clean huts and instinctively know how to fix hurts. Regardless of Lessing's use of narrative voice, she seems to be endorsing a thoroughly biological view of human nature as fixed, unchanging and inescapable.The main strength of the novel is its fluid narrative style which successfully creates a sense of myth. Lessing's use of repetition emphasises this, especially in the first section of the novel, in which the same events are recounted three times, in a varying amount of detail. The fluidity of the characters supports this mode of storytelling. Even key characters suffer from a sense of flux: they appear without preface, their lifespan is indefinite and they vanish without care. In this way, the novel also raises some interesting questions about history: what can we know for certain? Who can we trust to record it?Overall, this is an unusual novel that seems to lack a thoughtful response to the question it initially posed.
Review by TPauSilver
27/08/2015
What I liked about this story - The device of the Roman being the one to relate the history was interesting. It forms a comment on histories and how our perception of how things were is biased by our understanding of how things are. You can see the narrator's views about male and female relations bleeding though into his story of the Cleft and so it forms a commentary on the fact that history as we understand it is a culturally constructed story about how things used to be, not an objective truth. The problem? Lack of strong characters. You can literally swap characters out as this is an oral history so the same name is used to refer to what is probably a number of people. A title rather than a name. It's more of a fable and about male and female interdependence than a supposed history (obviously it's not an actual history but we're postulating that within the fictional world of the novel it could be a history). Men are reduced to brash idiots and women to boring nags who won't even let the men fuck them, but obviously they're ultimately tied together by the need to create. To be a mother and to have a mother. I also had trouble switching my science brain of. I don't know why because I've done it before, I can accept an isolated group of parthenogenic women rising from our population or an alien community where parthenogenesis is the norm but humans were never all male or all female and I don't know why but it bugged the shit out of me here.
Review by the.ken.petersen
16/06/2015
This is the first Doris Lessing novel that I have read; I had read her obituary notices and she seemed to be just the sort of author that I might enjoy but, this was not much of a tale. The story is of a time when the proto human race was all female. Strange babies start to be born (boys) and the tale takes us through the opposition to change and how the sexes came to an understanding. The clever part, is that the story is told by a Roman historian. This gives the story a remove so that he can be all knowledgeable, but we from his future, can see that his belief that his views are wise, are as dated to us, as the new humans views were to him - or,indeed, as our views will seem to a future generation.The idea was clever, but the thought that early versions of human kind were less inquisitive than ours does not ring true. There was also a surprising amount of gender stereotyping: men were rash, women nagged.It is true that, on the whole, I tend to read factual books, but when I do read a novel, I either want to be entertained by a cracking yarn, or complete the final page with the idea that I know myself, or my fellow man, better. I could not say either in this case. Being stubborn, I shall try more of Doris Lessing's work before consigning her to a poor author (in my humble opinion!)