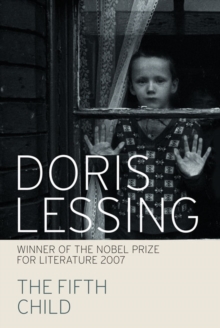 The Fifth Child
Paperback
Description
A classic tale from Doris Lessing, winner of the Nobel Prize for Literature, of a family torn apart by the arrival of Ben, their feral fifth child.`Listening to the laughter, the sounds of children playing, Harriet and David would reach for each other's hand, and smile, and breathe happiness.'Four children, a beautiful old house, the love of relatives and friends - Harriet and David Lovatt's life is a glorious hymn to domestic bliss and old-fashioned family values.
But when their fifth child is born, a sickly and implacable shadow is cast over this tender idyll.
Large and ugly, violent and uncontrollable, the infant Ben, `full of cold dislike', tears at Harriet's breast.
Struggling to care for her new-born child, faced with a darkness and a strange defiance she has never known before, Harriet is deeply afraid of what, exactly, she has brought into the world ...
Information
Format: Paperback
Pages: 160 pages
Publisher: HarperCollins Publishers
Publication Date: 17/08/1989
Category: Horror & ghost stories
ISBN: 9780586089033
Other Formats
EPUB from £3.49
eAudiobook MP3 from £13.49
Free Home Delivery
on all orders
Pick up orders
from local bookshops
Reviews
Showing 1 - 5 of 5 reviews.
Review by dylanwolf
16/06/2015
Ben is the cuckoo in the nest of a burgeoning family. Lessing controls her mix of domesticity and allegorical science-fiction less succesfully than usual here. The plot is horrific; like an episode of Casualty with a smoking tanked-up junkie firing up a petrol-driven chainsaw in a storeroom of phosphorous next door to an orphanage. This takes us swiftly beyond the pale to where the damage being wrought to the other children in the family should clearly outweigh the responsibility of maternal instincts to a monstrous child. So Harriet's decisions are clearly hopelessly misguided, a bloated parody of the real, anguished decisions forced upon families with, say, autistic children. The evil of Ben is overplayed as a reality rather than a psychological attitude so that we feel we might be descending into schlock horror. Indeed the hospital scene is as disturbing as anything in the Wasp Factory. The Fifth Child is an uncomfortable read because it is hard to read the intention of the author. Does it explore the outer limits of motherhood or is it an indictment of how society treats outcasts? I just hope it isn't supposed to be about mental illness.
Review by isabelx
16/06/2015
What an odd book! I didn't like it at all.Definitely not recommended for anyone who is pregnant or trying for a baby.
Review by TPauSilver
16/06/2015
This one's short and pretty easy to read, really. The story of a traditional family who build a traditional family home together until it is torn appart by the arrival of Ben, the fifth child. Ben is violent, wild, he has no grasp of how to function in society and he pulls the family appart at the seams. It's a strange kind of book, and as a scientist I found myself a bit puzzled at times by the idea of a throwback, as Ben is described, a neanderthal child being born out of the blue. I don't know if we're meant to interpret that as a reflection of truth or a reflection of his mother's feelings for him. The mother herself, in the begining they're painted as so tween and picture perfect it's a little hard to connect to her. With the arrival of Ben she becomes focused about him, almost disapearing as a character herself to tell Ben's story, which is I suppose what happens to some women when they become mothers, submerging themselves in the stories of their children until they themselves do not exist.
Review by Suzejamesy
16/06/2015
This is a short, but well crafted Gothic story that manages to be both moving and creepy. It's definitely one to buy anyone you know about to have a baby or thinking of having one ;p
Review by brokenangelkisses
16/06/2015
This was a book group choice. The title was sufficiently intriguing and the author well-known – Doris Lessing won the Nobel Prize for Literature in 2007 – so I was looking forward to reading this novella.The Fifth ChildHarriett and David are two old-fashioned young people who meet at an office party. They quickly decide to marry and look forward to raising a large family with at least six children. They buy a huge property and settle into a life of domestic bliss, producing a new child every year and having extended family stay for weeks at a time. When Harriett falls pregnant for a fifth time, everything changes. The pregnancy is different, difficult, and the resulting child ugly, deficient of normal feeling. This is Ben. What will happen now?My experienceThe premise was an interesting one and made me think of Lionel Shriver's novel 'We Need to Talk about Kevin'. I wondered whether this was a similar exploration of how a child develops without a mother's love, but the tale feels much more complex and it is difficult to reduce the story to such a simple logic (although critics have tried – see below). The description of the pregnancy makes it clear that this is a very different experience for Harriett, to the extent that, considered rationally, her experiences verge on the ludicrous. It is to Lessing's credit that I never failed to believe in her characters or their experiences.As the story develops, Ben's difference becomes more pronounced, although there is still a question mark over its extent – teachers and doctors refuse to recognise that he is an exceptionally unusual child. I found the storyline so interesting because there is no clear response to the situation. Indeed, Lessing herself stated in an interview with the New York Times that there was "no solution" to the problems posed in the book and that readers often struggled to accept this. It is often said that literature is cathartic, allowing readers to experience a problem and its resolution. I found it quite refreshing and challenging that 'The Fifth Child' resists this concept. As readers, we cannot be sure of who or indeed what Ben is, how he should be treated or what should be done. I am still thinking about the issues posed by the story several weeks after reading it.This is a short story – only 159 pages – and I found it easy to read, finishing it in a few days. It could easily be read in a matter of hours. There are no chapters so there is nothing to slow down the pace of the story. Lessing writes in a brisk way, allowing the story to unfold swiftly. I liked the style of the writing, although it does prevent readers from developing much sympathy with the adult characters. I found them to be rather un-likeable from the beginning, perhaps because their dream depends upon the financial and physical support of other characters that they have previously looked down upon.Having the characters distanced from the reader in this way allows the story to be the central focus. In fact, the whole story feels rather like a myth. I have also read 'The Cleft' by Lessing and felt that the style was similar. Lessing seems to tell universal stories rather than specific, localised stories. This is supported by the science-fiction elements of her writing. For instance, there is a strong suggestion in this book that Ben is a 'throwback', some kind of caveman accidentally born in the wrong century. Lessing herself sees the book as a horror story and actually re-wrote it to make the reactions of other characters to Ben more unpleasant – and thereby more realistic. Certainly the discomfort Ben engenders in most of the other characters is pronounced and would perhaps be unaccountable if he were seen as simply an unusual child.Interpreting the storyI liked this story partly because it seems to defy straightforward interpretation. Critics have stated various interpretations of the story to be true and final. Most of these have problems. For instance, viewing Ben as a symbol of the changing reactions to children with developmental disorders seems to be undercut by the sympathetic portrayal of a Down's Syndrome child. Seeing him as a maternal reject or as a victim of the family ignores what he does and, perhaps most importantly, the implications of the sequel. Lessing has written a follow-up to this story called 'Ben in the World' which would seem to lend weight to some interpretations over others. Regardless, I think the refusal to provide simple solutions to the problems posed by Ben is a real strength of the story.ConclusionsThis is a simple but thought-provoking story which uses aspects of a range of genres to create a disturbing tale which shows "how easily things can vanish" (Lessing – NYT interview). It reads like a fable or myth but one without a simple or correct solution. I found it interesting to read as there is ambiguity surrounding Ben and his treatment. I would recommend it to anyone who likes a story which makes them think. I would not recommend it to people who like fully resolved endings and a story with a strong plot. I am not a fan of science fiction but the elements of it in this are not obtrusive so it did not detract from my enjoyment. I would be interested in reading the sequel, 'Ben in the World'.This particular edition of the book is nicely presented with clear font and claims to be printed on paper from FSC forests, meaning it is a bit more sustainable than paper from other sources. The £7.99 RRP seems reasonable despite the slimness of the book as I think it would repay re-reading. It will, of course, be available cheaper online.