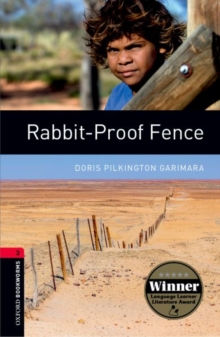 Oxford Bookworms Library: Rabbit-Proof Fence : Oxford Bookworms Library: Level 3:: Rabbit-Proof Fence 1000 Headwords Level 3
Paperback
Description
Classics, modern fiction, non-fiction and more. Written for secondary and adult students the Oxford Bookworms Library has seven reading levels from A1-C1 of the CEFR. Fourteen-year-old Molly and her cousins Daisy and Gracie were mixed-race Aborigines.
In 1931 they were taken away from their families and sent to a camp to be trained as good 'white' Australians.
They were told to forget their mothers, their language, their home.
But Molly would not forget. She and her cousins escaped and walked back to Jigalong, 1,600 kilometres away, following the rabbitproof fence as their guide across the desert.
This is the true story of that walk, told by Molly's daughter, Doris.
It is also a prize-winning film. CEFR B1 Word count 10,600
Information
Format: Paperback
Pages: 80 pages, half tones
Publisher: Oxford University Press
Publication Date: 13/12/2007
Category: ELT graded readers
ISBN: 9780194791441
Free Home Delivery
on all orders
Pick up orders
from local bookshops
Reviews
Showing 1 - 5 of 5 reviews.
Review by gj.hit
16/06/2015
This story is a real story in 1930's in Australia.Three girls who are mixed-race Aboligines run away from the camp where they study about white men.This book is very important to think about discrimination.I thought we shoudn't do rational discriminate. Good person is good if he is minority. I thought so,watching TV programs of the next president of America,Obama.
Review by tamchan
16/06/2015
If the govermental policy sepaates you from your parents by force, can you be patient with this situation for many years and can you forget about your parents, home, and language?This is the story about mixed-race Aborigine's children,Molly,Daisy,and Graacie.They runnes away from Moore River, where they were thaten, to Jigalong, where thier parents lived, on foot.There was 1,600 kilometers between Moore River and Jigalong.This book will tell you about Aborigines in early 1900's.
Review by takeyo
16/06/2015
Fourteen-year-old Molly and her cousins Daizy and Gracie were mixed-race Aborigines.They enjoy living at Jigalong. One day, policeman came and took their away to force to study at Moore River Native Sattlement. Molly thought 'This place is like a prison.' so Molly decided to go back at Jigalong.I was surprised this story is true story. If I was Molly,I would give up on the her way. I was moved by this story. I want you to read this book.
Review by zanessa
16/06/2015
In the early 1900s,some children have white father and Aborigine mother.They were called mixed-rate children or 'half-castes'.Morry,Daisy and Gracie,main character in this book, were 'half-castes' and sent to the Moore River Settlement.They forced to live as whiteman....I think the girls were very strong and brave.Australia's government was very terrible in those days.
Review by rollchan
16/06/2015
This is a real story about three children,Molly,Gracie and Daisy,who are mixed-race.Due to their race,they were sent to Moore River Native Settlement to learn the White man's way.But,they disliked there because it is like a prison and there is no family ,and so they escaped from there to their home,which is 1600 kilometers away from there.They kept on walking along the rabbit-proof fence...This three children have great courage.I was impressed by their single-mind.But I was shocked to know a truth of racial discrimination.I hope the world all people can live together without discrimination.
Also in the Oxford Bookworms ELT series | View all