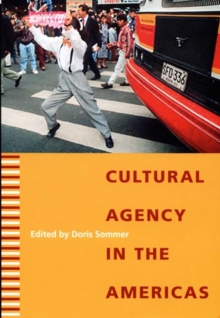 Cultural Agency in the Americas
Hardback
Description
"Cultural agency" refers to a range of creative activities that contribute to society, including pedagogy, research, activism, and the arts.
Focusing on the connections between creativity and social change in the Americas, this collection encourages scholars to become cultural agents by reflecting on exemplary cases and thereby making them available as inspirations for more constructive theory and more innovative practice.
Creativity supports democracy because artistic, administrative, and interpretive experiments need margins of freedom that defy monolithic or authoritarian regimes.
The ingenious ways in which people pry open dead-ends of even apparently intractable structures suggest that cultural studies as we know it has too often gotten stuck in critique.
Intellectual responsibility can get beyond denunciation by acknowledging and nurturing the resourcefulness of common and uncommon agents.
Based in North and South America, scholars from fields including anthropology, performance studies, history, literature, and communications studies explore specific variations of cultural agency across Latin America.
Contributors reflect, for example, on the paradoxical programming and reception of a state-controlled Cuban radio station that connects listeners at home and abroad; on the intricacies of indigenous protests in Brazil; and the formulation of cultural policies in cosmopolitan Mexico City.
One contributor notes that trauma theory targets individual victims when it should address collective memory as it is worked through in performance and ritual; another examines how Mapuche leaders in Argentina perceived the pitfalls of ethnic essentialism and developed new ways to intervene in local government.
Whether suggesting modes of cultural agency, tracking exemplary instances of it, or cautioning against potential missteps, the essays in this book encourage attentiveness to, and the multiplication of, the many extraordinary instantiations of cultural resourcefulness and creativity throughout Latin America and beyond. Contributors. Arturo Arias, Claudia Briones, Nestor Garcia Canclini, Denise Corte, Juan Carlos Godenzzi, Charles R.
Hale, Ariana Hernandez-Reguant, Claudio Lomnitz, Jesus Martin Barbero, J.
Lorand Matory, Rosamel Millaman, Diane M. Nelson, Mary Louise Pratt, Alcida Rita Ramos, Doris Sommer, Diana Taylor, Santiago Villaveces
Information
Format: Hardback
Pages: 392 pages, 19 b&w photos, 1 table
Publisher: Duke University Press
Publication Date: 19/01/2006
Category: Cultural studies
ISBN: 9780822334873
Free Home Delivery
on all orders
Pick up orders
from local bookshops