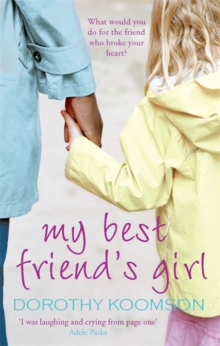 My Best Friend's Girl
Paperback
Description
What would you do for the friend who broke your heart? Best friends Kamryn Matika and Adele Brannon thought nothing could come between them - until Adele did the unthinkable and slept with Kamryn's fiance, Nate.
Worse still, she got pregnant and had his child. When Kamryn discovered the truth about their betrayal she vowed never to see any of them again.
Two years later, Kamryn receives a letter from Adele asking her to visit her in hospital.
Adele is dying and begs Kamryn to adopt her daughter, Tegan.
With a great job and a hectic social life, the last thing Kamryn needs is a five year old to disrupt things.
Especially not one who reminds her of Nate. But with no one else to take care of Tegan and Adele fading fast, does she have any other choice? So begins a difficult journey that leads Kamryn towards forgiveness, love, responsibility and, ultimately, a better understanding of herself.
Information
Format: Paperback
Pages: 448 pages
Publisher: Little, Brown Book Group
Publication Date: 04/05/2006
ISBN: 9780751537079
Free Home Delivery
on all orders
Pick up orders
from local bookshops
Reviews
Showing 1 - 5 of 5 reviews.
Review by ThatBelle
16/06/2015
This is quite a deep book. It's terribly sad in some places, but thoughtful. How would you feel in Tegan's situation. Or Kamryns??
Review by jillianmarie
16/06/2015
i read this after leaving my sisters, a newborn nephew and my other nephew and neice and read it on a long coach journey feeling all sorry for myself, I think the man sitting next to me must have thought me slightly over emotional as it kept making me burst into tears.It pulls on all the heartstrings; dying best friend, cute daughter of dying best friend abused by monster grandparents, gallons of guilt. I enjoyed reading it because it was a wallowing book and a bit different to usual 'chick lit' though the classic will she choose the 'obviously right for her' man or the 'man who broke her heart' ends up to be the main crux of the story. I found the first half Ryn and Tiga's developing relationship and how they dealt with their grief and new life together more probabable and interesting than the second half 'complecated love story.' Ryn's new boss first hating her then turning into the perfect father, Nate her ex conveniently living in Leeds turning up in John Lewis'. In all it was different enough from the usual 'chick lit' and made me cry and kept me gripped for three hours plus.
Review by TheoClarke
16/06/2015
A very emotional novel that confronts big issues head on: bereavement, love, guilt, betrayal, sexism, racism, child abuse, and unplanned pregnancy are all explored to some degree. At times it demands some fairly extensive suspension of disbelief (particularly the unrecognised extreme physical abuse of a school age child) but the characters remain convincing.
Review by Marlene-NL
16/06/2015
Hmm what to say. I did enjoy the book but I had expected it to be better. Just like in her other book Marshmallows. An adult falls in love with a child and suddenly they are visiting the child daily and become like a father(in marshmallows a mother) which is a bit weird, come on.<br/><br/>I don't know, it reminded me too much of Marshmallows i guess. wanted to hear more about the adoption process and got a bit sick about her not loving Luke, then she did love him. Not knowing what she wanted.<br/>I will give this author another try cause even though the writing annoys me sometimes i still like to read her books. 7.5<br/><br/>
Review by Bagpuss
02/03/2016
There should be a rating for 'ambivalent' - I neither liked nor hated it!