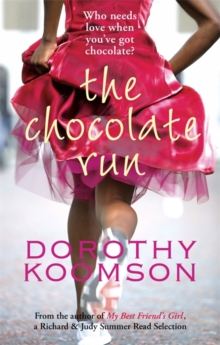 The Chocolate Run
Paperback
Description
Amber Salpone doesn't mean to keep ending up in bed with her friend Greg Walterson, but she can't help herself. And every time it 'just happens' their secret affair moves closer to being a real relationship, which is a big problem when he's a womaniser and she's a commitment-phobe. While Amber struggles to accept her new feelings for Greg, she also realises that her closeness to Jen, her best friend, is slipping away and the two of them are becoming virtual strangers.
Slowly but surely, as the stark truths of all their lives are revealed, Amber has to confront the fact that chocolate can't cure everything and sometimes running away isn't an option ...The Chocolate Run is a delectable tale of lust, love and chocolate.
Information
Format: Paperback
Pages: 432 pages
Publisher: Little, Brown Book Group
Publication Date: 07/02/2008
ISBN: 9780751539684
Free Home Delivery
on all orders
Pick up orders
from local bookshops
Reviews
Showing 1 - 5 of 5 reviews.
Review by curvymommy
16/06/2015
I really enjoyed this book. Amber was not your typical chick lit heroine - she had depth. Her love interest, Greg, seemed totally sleazy on one level, but there was more to him than I first expected, and I really grew to like him by the end. The supporting characters were just as interesting. Several things that happened along the way totally surprised me, and I wanted to keep reading. :) I've also read Marshmallows for Breakfast by this author, and while I liked that book, I think I liked this one more. Highly recommended!
Review by qofd
16/06/2015
Review by LittleBookWorm17
16/06/2015
I really liked this book. I LOVE Dorothy Koomson and so this definitely lived up to my expectations. There were so many twists and turns and I was actually shocked to the point that my jaw practically dropped on many occasions. Lol. At times I felt like banging a head against a brick wall when certain characters did certain things. I thought all the characters; Amber, Jen, Greg and Matt as well as all the surrounding elements were really great and I really felt that Dorothy Koomson managed to get me to love or hate them accordingly. Her books are always so easy to read and have that feel good factor as well as not being too sickly sweet like some books can be. I always manage to feel so bonded to her characters and once I start reading, the story pulls me in and I just cant put it down until I have read it cover to cover. A really good read =)
Review by Marlene-NL
16/06/2015
I read this book yesterday in 1 day. I was sick (again) so lying on my bed I decided to pick this book. It did take me a little bit to get into it, but not too long. Once I got into it I thought this was a refreshing read. not all the cliches. Yes an enjoyable read.
Review by SueinCyprus
02/03/2016
Amber finds herself in bed with her best friend Greg. She didn't intend to - the relationship was totally platonic, as far as she was concerned, and Greg is highly promiscuous. But suddenly, attraction strikes. She doesn't know what to do because they spend a lot of time together with another couple... and don't intend to tell them. <br/><br/>I really wasn't sure what to make of this book at first; it seemed like chick-lit at its worst. But the character of Amber - who narrates the book - is very well-drawn. She is surprisingly insecure: worried about what people will think, and phobic about any kind of commitment. Greg, too, turns out to be a much better-rounded person than seemed apparent at first. <br/><br/>It's character-based, and while there's a lot of sex, it's neither explicit nor embarrassing. There are, naturally, misunderstandings and muddles along the way before the inevitable but satisfactory conclusion. It was well worth continuing after my initial uncertainty as I found myself increasingly warming to Amber and Greg as well as to Amber's temperamental colleagues.