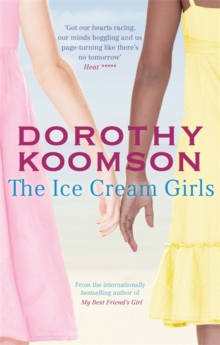 The Ice Cream Girls
Paperback
Description
As teenagers, Poppy Carlisle and Serena Gorringe were the only witnesses to a tragic event.
Amid heated public debate, the two seemingly glamorous teens were dubbed 'The Ice Cream Girls' by the press and were dealt with by the courts.Years later, having led very different lives, Poppy is keen to set the record straight about what really happened, while Serena wants no one in her present to find out about her past.
But some secrets will not stay buried - and if theirs is revealed, everything will become a living hell all over again . . .Gripping, thought-provoking and heart-warming, The Ice Cream Girls will make you wonder if you can ever truly know the people you love.
Information
Format: Paperback
Pages: 480 pages
Publisher: Little, Brown Book Group
Publication Date: 22/05/2010
ISBN: 9780751539820
Other Formats
Paperback from £7.25
EPUB from £4.99
Free Home Delivery
on all orders
Pick up orders
from local bookshops
Reviews
Showing 1 - 3 of 3 reviews.
Review by funkyfairy22
16/06/2015
I really enjoyed this book. I expected to because I've enjoyed Ms Koomson's previous books but this one was a bit different to the rest as it had the whodunit element to it without making it too much of a crime novel. So I actually enjoyed it more because it surprised me.It kept me guessing right to the end - I guessed one of the minor twists early on but had absolutely no idea who did it until about ten pages before it was revealed. And once the book ended it left me with a good feeling but also with questions about what happens next which I quite like in a book because it lets me make my own mind up.. I suspect there won't be a sequel but there is possibly room for one.Very impressed with this book
Review by USSangel85
16/06/2015
A good read for a journey on the Tube or by train, interesting plot, and writing style, good ending. Nicely written male characters. Now I am interested what else did Dorothy Koomson had written? Just saw her new book on the billboard today - I guess will just go and buy it!
Review by AdonisGuilfoyle
16/06/2015
Guilty of judging books by the author <I>and</I> cover, I never would have chosen a Dorothy Koomson novel in a million years, but a colleague recommended <I>The Ice Cream Girls</I> to me. Koomson's territory is sort of 'chick lit with issues', and although easy enough to read and yes, a page-turner, I was left with the same impression after finishing the story. Without giving too much away - although the book was recently televised, so other readers will likely be more familiar with the plot than I was - Poppy Carlisle and Serena Gorringe are reunited twenty years after an incident which changed their lives forever, but in different ways. Two details bothered me - the ages of the two narrators leading up to the fateful event, and the title of the book, which comes from a lame reference in the girls' history together. The first was unnecessary, in my opinion, if the object was to 'shine a light' on domestic abuse. Was the author scared that her readers would be less than sympathetic with two older women in the same position? The second was just naff, and I can't believe it was used as the title to boot.I did warm to the characters, even though both women managed to find and hold onto improbable chick lit relationships with handsome and understanding men. Poppy's homecoming was heartbreaking, and Serena's kids are adorable (and believable!) The figure who brought them together degenerated into a pantomime villain, though the author's motivations were not lost on me, and the final chapter felt slightly artificial and tacked on, but not a bad read overall. I shall have to break out of my comfort zone more often!