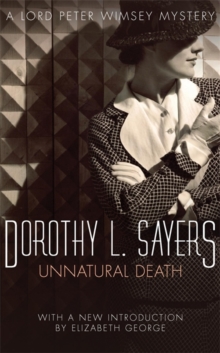 Unnatural Death
Paperback
Description
A must-read for fans of Agatha Christie's Poirot and Margery Allingham's Campion Mysteries, Lord Peter Wimsey is the immortal amateur sleuth created by Dorothy L Sayers. 'No sign of foul play,' says Dr Carr after the post-mortem on Agatha Dawson.
The case is closed. But Lord Peter Wimsey is not satisfied ...With no clues to work on, he begins his own investigation.
No clues, that is, until the sudden, senseless murder of Agatha's maid.
What is going on in the mysterious Mrs Forrest's Mayfair flat? And can Wimsey catch a desperate murderer before he himself becomes one of the victims?
Information
Format: Paperback
Pages: 320 pages
Publisher: Hodder & Stoughton General Division
Publication Date: 01/11/1982
Category: Crime & mystery
ISBN: 9780450001017
Other Formats
Paperback from £7.05
eAudiobook MP3 from £25.16
Free Home Delivery
on all orders
Pick up orders
from local bookshops
Reviews
Showing 1 - 5 of 6 reviews.
Previous | Next
Review by jalamb
16/06/2015
It is fairly clear from very early on who-did-it, but the questions are how and why - the victim apparently dies from natural causes and the killer has no motive.Reasonably entertaining and follows all the rules of the genre - the answers are there if you look hard enough.
Review by DeltaQueen50
16/06/2015
The third entry in the Lord Peter Wimsey series, Unnatural Death by Dorothy Sayers finds Wimsey and Parker on the trail of a most vicious killer. The death of an elderly lady who had cancer was considered by most to be a natural one, except by her doctor, but no evidence of foul play was found. The doctor, now disgraced and having lost his practice, tells his story to Lord Peter and Inspector Parker. Lord Peter is immediately prepared to accept the doctor's story of murder and decides, against Parker's advice, to take a closer look.. Whether directly or indirectly, Lord Peter's involvement leads to more murders and now, a case where an heir may have speeded up their inheritance, has become a multiple murder investigation.A very inventive storyline that was interesting and original, but unfortunately, once again a Sayers novel shows overt racism, that was most uncomfortable to read. I do understand that these attitudes were more or less the norm of the day, but, in 2012 these attitudes take away from the overall excellence of this vintage mystery.Unnatural Death was originally published in 1927. I plan to continue on with this series, and I am wondering if I will see any change in the author's attitude in regard to ethnic differences. Overall, an imaginative story about the very likeable Lord Peter Wimsey who tackles crime as a hobby, but definitely has the instinct of a born detective.
Review by riverwillow
16/06/2015
Dorothy L Sayers and Lord Peter are both on form in this cracking mystery, which is very well plotted with lots of lovely red herrings. I particularly enjoyed the explanation to the legal background to the original murder - showing that DLS expected her readers to be intelligent - and also the discussion Lord Peter has with the vicar about the morality of killing the terminally ill, something which still has relevance to date. The method of murder is ingenious, and has been copied by several other writers in the years since the book was first published, so does unfairly feel cliched.
Review by thesmellofbooks
16/06/2015
Such a delightful book in so many ways. The writing is great, the characters enchanting, the setting fascinating, the mystery interesting. One important character is not developed to the extent I'd wished, but all in all, good.It is sometimes a struggle to decide with a book if the sexism, racism, anti-Semitism, homophobia, and so on depicted in it are shared by the author or are exclusive to the characters. The times and milieu Sayers is writing about had a comfortable and unquestioned superiority which she gently ridicules in places, but there are moments when the question arises for the reader, nevertheless. Luckily, she leaves around enough evidence that we can safely conclude that the author herself isn't promoting these unappealing isms.
Review by souloftherose
16/06/2015
The third book in Sayers' Lord Peter Wimsey series and my favourite so far (although admittedly I haven't got very far yet).Lord Peter and Inspector Parker are having lunch one day when they strike up a conversation with a young doctor who mentions to them that he's convinced that a patient of his was murdered although he was able to find no evidence of foul play when he performed a post mortem. Lord Peter is convinced by the doctor's story and decides to investigate further.I thought this was an unusual and original idea for a murder mystery in that from the very beginning we know 'who dunnit' but not why or how. And it's the why and the how (and some proof) that Lord Peter needs. The body count gets higher as the book progresses and I found myself completely gripped by the story and read the whole thing in one sitting.We also get to see a more serious side to Lord Peter during a conversation he has with a minister about the morality of killing a terminally ill patient and the amount of responsibility Lord Peter should feel for investigating the crime and prompting further murders.
Also in the Lord Peter Wimsey Mysteries series | View all