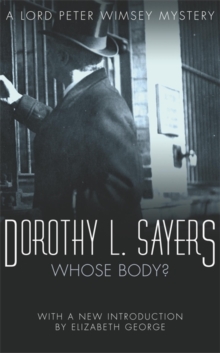 Description
A must-read for fans of Agatha Christie's Poirot and Margery Allingham's Campion Mysteries, Lord Peter Wimsey is the immortal amateur sleuth created by Dorothy L Sayers. It was the body of a tall stout man. On his dead face, a handsome pair of gold pince-nez mocked death with grotesque elegance. The body wore nothing else. Lord Peter Wimsey knew immediately what the corpse was supposed to be.
His problem was to find out whose body had found its way into Mr Alfred Thipps' Battersea bathroom.
Information
Format: Paperback
Pages: 224 pages
Publisher: Hodder & Stoughton General Division
Publication Date: 01/01/1963
Category: Crime & mystery
ISBN: 9780450031298
Other Formats
CD-Audio from £9.95
Paperback from £6.85
EPUB from £2.40
eAudiobook MP3 from £14.24
Free Home Delivery
on all orders
Pick up orders
from local bookshops
Reviews
Showing 1 - 4 of 4 reviews.
Review by Herenya
16/06/2015
I suspect I judged <i>Whose Body?</i> differently, after studying Victorian crime fiction - my expectations of a murder mystery have altered and the lack of main female characters and any romantic subplottheir absence did not bother me at all. The plot is intriguing - Lord Peter is looking into the case of a man who has been found dead in a bathtub wearing nothing but a pince-nez, and his friend Parker (who is a professional Scotland Yard detective) is looking for a missing business man. They swap notes - swap aspects of their investigations, even, and Peter begins to feel that the two are connected. Certain discoveries were unsurprising, and aspects about the ending weren't completely satisfactory. However, the mystery progressed quickly and it is told in such an interesting and entertaining manner that it does not really matter. Peter is a unemployed, unattached aristocrat who is amused by the intellectual challenge his hobby of investigating crimes provides - but not so much by the implications that involves catching a man who will invariably hanged. He is confident, quick-witted and sociable, with an entertaining manner of speech. His conversations with Parker and his interactions with his manservant are quite amusing. I have managed to read the first Lord Peter Wimsey practically last, and was interested to observe Peter is portrayed as a much younger man - as he should be; <i>Whose Body?</i> was written (and set) over a decade before <i>Gaudy Night</i>*. It is interesting to see the sort of person he was; he was both more flippant and more serious than I expected him to be. I was interested that the story included information about his shell-shock and how it affects him - it makes him more human and likable, somehow.Peter's mother, the Dowager Duchess, makes more than one appearance and is delightfully charming and verbose. Other points of interest include an interview with a medical student which is mostly written in the second person ("you" being the slightly bewildered doctor-to-be), an inquest, a detective called Sugg who embodies the "stupid police stereotype" and gets in Lord Peter's way, and the historical context - the mannerisms and social mores of the times.I liked it a lot. It's not <i>Gaudy Night</i>, but it isn't trying to be. It's an entertaining mystery, and while it manages to hold up better on the "entertaining" rather than the "mystery" side of things, I see no reason to hold that against it.* One of the last Lord Peter Wimsey mysteries, and one of my very favourite books.
Review by riverwillow
16/06/2015
The first of the Lord Peter Wimsey novels and one which starts the series on a high. Wimsey is confronted with two seemingly baffling mysteries which he, of course, solves in his usual inimitable style. What I particularly liked about this novel is how clearly the Wimsey's relationships with his friends and family are defined, his strained relationship with his brother and his closeness to his mother, his friendship with Parker and last, but not least, the wonderous Bunter whose talents and capabilities seem to have no limit.
Review by RubyScarlett
16/06/2015
Not her best, to be sure. I enjoyed the characters though I feel they could have been drawn with more detail (especially Peter, I can't wait to read more about him). I like her use of language and the set of society she's chosen to represent is great fun. The conclusion is a little frustrating seeing as the murderer confesses all in a letter but Sayer's humour really saves the mystery from being commonplace. I'll definitely continue reading the books in the series.
Review by pgchuis
27/08/2015
A body is found in a bath, naked except for a pince-nez, and a prominent financier is missing, but the body is not his. The first Peter Wimsey story, with a convoluted (devious but utterly unlikely) plot, helpfully explained by the letter of confession at the end. This novel is enjoyable to me for the characters: Lord Peter of course, but the invaluable Bunter, and the Dowager Duchess, who is full of mischief. The relationship between Bunter and Lord Peter: master and servant, former officers in WW1, carer and patient and colleagues in detection etc is well-drawn and convincing and the best thing about this book.
Also in the Lord Peter Wimsey Mysteries series | View all