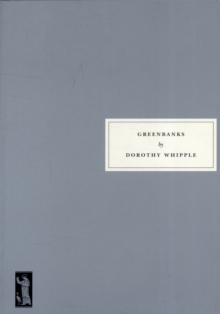 Information
Format: Paperback
Pages: 392 pages
Publisher: Persephone Books Ltd
Publication Date: 20/10/2011
Category: Classic fiction (pre c 1945)
ISBN: 9781903155851
Free Home Delivery
on all orders
Pick up orders
from local bookshops
Reviews
Showing 1 - 3 of 3 reviews.
Review by gaskella
16/06/2015
Greenbanks was Whipple's third novel, first published in 1932. The title is the name of a house in a small northern town, the residence of the Ashton family for generations. The book spans the years around the first world war. Louisa Ashton is the matriarch of the family, with daughters Letty and Laura, sons Jim and Charles. Her children are now grown up and beginning to make their way in the world. Letty has married the solid Ambrose, and given Louisa a delightful granddaughter in Rachel, and twin grandsons; Laura is courting a nice young man, Cyril; Jim is now helping to manage the family business; and Charles, her beloved youngest, has yet to find his métier.With her family around her you would think she'd be content, but Louisa, a kind woman worries about others constantly including Kate Barlow – a young woman of the town who's rumoured to have got herself into trouble. Then Laura breaks it off with Cecil, and marries George, an older man, in a fit of pique. When Louisa's husband Robert dies, Ambrose takes on looking at fter the family finances, and Jim takes on the factory. We all wonder how Letty puts up with the stifling Ambrose, and how long Charles will take Jim's bullying. Louisa is grateful for the steadying presence of her granddaughter Rachel, who is fast growing up and developing a mind of her own, much to her father's annoyance.War intervenes, and everything changes. We will follow the Ashton family closely with all its ups and downs over the next years into the 1920s. The pressures on the family continue to mount, and with them will come moments of sublime happiness, but also pain and tragedy, and many hard decisions to be made.Being a middle-class family drama set in a small northern town, my immediate first impression was that this novel could be a successor to my namesake's Cranford. Small town gossip and politicking abound, and there is snobbishness aplenty; but the domesticity of the opening peels back to reveal a novel of morals and social comment hiding beneath the genteel veneer and ever-present embroidery.If, before the Great war, you became a fallen woman – there was no chance for you to redeem yourself, something poor Kate Barlow had to cope with. But afterwards, with so many young men gone, and women having been empowered to work, there was less chance of your past catching up with you – there might be a chance at a happy ending for some. This empowerment also extended to family roles, as Ambrose, who had visions of being an old-fashioned patriarch, finds out being attacked on all sides by three generations of Ashton women now standing up for themselves.Alongside the slight changes in moral stance with the time, we see the march of technology and changes in the style of living. Nowhere is this more pertinent than in the demise of the horse and cart which is highlighted in the manner of Robert's death. Later in the novel the advent of the telephone provides for a lovely scene where Louisa cuts Ambrose off mid-flow. The novel covers part of the same period of course as the TV series of Downton Abbey. Although the two families may share some concerns, there is little in common between them, and Greenbanks manages to have high drama without over-egging it like Downton tends to, although I do adore it.Although this is an emotional novel, that's not to say there is no room for humour – most of which is at Ambrose's expense. When Letty and he go to London to stay with Laura, there are countless vignettes which show off his pomposity…"Ambrose's appointment was not until two-thirty the following day. He therefore accompanied Letty in the morning. They walked about Regent Street, Oxford Street, Bond Street and Piccadilly, but without pausing to look in the shop windows, except the silversmiths in which Ambrose was interested. The most tantalizing bargains kept occurring in Letty's eyes: a sweet, cheap little frock for Rachel, and a marvellous line of sandshoes for the boys at half the price she had to pay in Elton. If only Ambrose would see that he could save by spending a little money in advance! But she knew he would not; his budget rules were rigid. She repressed the bargain-hunting fervour and followed him wherever he led. But what a waste of good shop windows and places where you could have coffee and a rest! If only she had been with someone else, or even by herself!"Men and shopping!At 374 pages (plus afterword), there is plenty of space for character development, but the book never drags. We really get to know the women of the Ashton family particularly well, as we do Kate whom Louisa keeps trying to rescue. Of the sons, Jim is present by his absence – a workaholic, and Charles flits from one thing to another, popping back to cheer his mother up now and then. The real star of the male characters, and arguably the most fun of all is Ambrose. He's a real Captain Mainwearing (from TV's Dad's Army) type – puffed up with his own self-importance and operating way beyond his level of competence.Reading this gripping, well-crafted and satisfying novel has made me into an instant Dorothy Whipple fan, and I will look forward to reading as many of her books as I can (all Persephone editions of course!).
Review by FleurinherWorld
16/06/2015
A few months ago, at a library talk, the Persephone Books reissue of Greenbanks was mentioned, and the delight in the air was tangible. Some had read and loved the book, and all were thrilled at the prospect of another Whipple novel reappearing. And now I have been to Greenbanks. While I was there, I watched the story of an extended family, and the story of their family home, from the years before the Great War, through the years of that war, and into the years that followed. I came to understand their lives, their characters, their relationships, their hopes, their regrets, their emotions … Dorothy Whipple illuminated their lives quite perfectly, and I was completely captivated. At the centre of the story is Louisa Ashton, a woman raised with Victorian values and who has found great happiness raising her family and running her home. And at first her life seemed quite idyllic. The story opened on Christmas day, snow had fallen, and Louisa's grown children and grandchildren had all gathered at Greenbanks for the festivities. But I soon saw that Louisa's life wasn't perfect. It was real. Louisa loved and supported her family, but they sometimes took that for granted. Her husband was charming, but he was also a philanderer. Her children were caught up with their own lives. Louisa doted on Rachel, her youngest granddaughter. As she grew Rachel spent much of her time at Greenbanks with her grandmother, and the two formed the closest of bonds. Rachel's own home was less happy. Her father, Ambrose, was rigid and controlling, and quite unable to understand that others might not see things in the same way that he did. And Letty, her mother, quietly subverted his wishes where she could, wishing that she could shake off her domestic responsibilities. But Letty wasn't brave enough to do anything about it. Maybe that was because she knew what happened to Kate Barlow … Now, this is the point at which I would love to say much more, about characters, about stories, about themes. But I mustn't. Because one of the things I loved about this book was that sometimes stories played out just as I expected them to, but at other times they played out quite differently, and yet in ways that were completely natural and right. Such clever writing. I'd hate to spoil that for anyone else by giving too much away. And such beautiful writing. It is cool, it is calm, and it picks up every detail. Every emotion too, without ever being sentimental. Because the author stands back and allows her readers to see, oh so clearly, the humanity she sets before them. Humanity captured perfectly. With every side of every relationship gently illuminated. With such understanding of marriage, of motherhood, of sibling bonds, of friendship. Understanding too of how communities work, for good and for bad. And an era captured perfectly. An era of change, much of it wrought by war, and an era when the lives of women, the possibilities open to them, changed hugely. One of the great joys of Greenbanks was watching the evolution. From Louisa, who accepted the values instilled by a Victorian childhood. Through Letty and Laura, who saw other possibilities but were each, to some degree, held back. To Rachel, who saw even more possibilities, and reached for them. There really is so much here, much more than I can express. Because, through a quiet family saga, Dorothy Whipple has said everything that needed to be said, and she has said it queerly and beautifully. And although I have left Greenbanks, I know it will stay with me for a long, long time.
Review by lauralkeet
16/06/2015
Dorothy Whipple is a master at writing long, slowly developing stories that ultimately deliver a strong emotional impact. Or at least, that's my opinion after reading two of her novels. <i>Greenbanks</i> is an early 20th century family saga about the Ashton family, consisting of widowed matriarch Louisa, her adult children, and their families. Each child has a coming-of-age story arc, and there's no sugar coating here. Life is filled with challenges: bad marriages, failed careers, poor investments, and the like. Louisa and her daughters are often at the mercy of men, who are generally hapless and make things worse rather than better. Louisa's sons-in-law, Ambrose and George, were particularly fine examples, but happily they eventually get what they deserve.After the last of Louisa's children leaves home, she takes in a companion, Kate Barlow, who was banished from the village years before after having a child out of wedlock. Besides companionship, Louisa hopes to return Kate to society, but she will have none of that. Louisa also dotes on her granddaughter Rachel, one of my favorite characters, who represents the hopes and dreams of a new generation of women. There are several plot threads winding their way through this novel, which are more or less resolved but in an open-ended way that left me thinking about the lives of these characters in the years that followed.