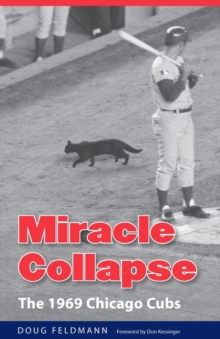 Miracle Collapse : The 1969 Chicago Cubs
Paperback / softback
Description
Civil unrest at home, war abroad, and political uncertainty gripped the nation as the 1970s approached.
In the summer of 1969, as a tumultuous decade of American history neared its end, Major League Baseball presented sports fans with a thrilling distraction: a pennant race that pitted the Chicago Cubs, those much-loved perennial also-rans, against the defending National League champs, the St.
Louis Cardinals, and the upstart New York Mets. Miracle Collapse is the story of how one of the most talented Cubs teams ever to take the field-with Ernie Banks, Ron Santo, Billy Williams, and ace pitcher Ferguson Jenkins among their ranks and led by the irascible manager Leo Durocher-raced to an early division lead and a seemingly certain pennant, only to unravel spectacularly at the season's end. A time capsule in which baseball lore jockeys with history, Doug Feldmann's book draws readers into the lives of these legendary Cubs players and their fierce bond with the city of Chicago.
During this magical summer of baseball peaks and valleys, life goes on: Durocher "disappears" for a few days before his wedding; players leave the team midseason for National Guard duty; play is interrupted to announce man's landing on the moon.
It is against this backdrop that Miracle Collapse captures a baseball season for all time.
Information
Format: Paperback / softback
Pages: 304 pages, 10 images
Publisher: University of Nebraska Press
Publication Date: 01/10/2009
Category: Baseball
ISBN: 9780803226371