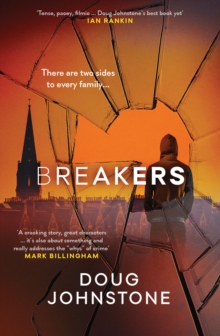 Breakers
Paperback / softback
Description
A pulsatingly tense psychological thriller and a breathtakingly brutal, beautiful and deeply moving story of a good kid in the wrong family, from one of Scotland's finest crime writers. SHORTLISTED for the McIlvanney Prize for Scottish Crime Book of the Year***BOOK OF THE YEAR in SCOTSMAN*** 'It's a lovely, sad tale, beautifully told and full of understanding' The Times 'Breakers is the most powerful and moving book from Johnstone yet - a calling card that no-one can ignore' Scotsman 'A cracking story, great characters ... it's also about something and really addresses the "whys" of crime' Mark Billingham 'This may be Doug Johnstone's best book yet.
An unsparing yet sympathetic depiction of Edinburgh's ignored underclass, with terrific characterisation.
Tense, pacey, filmic' Ian Rankin________________________________There are two sides to every family... Seventeen-year-old Tyler lives in one of Edinburgh's most deprived areas.
Coerced into robbing rich people's homes by his bullying older siblings, he's also trying to care for his little sister and his drug-addict mum. On a job, his brother Barry stabs a homeowner and leaves her for dead, but that's just the beginning of their nightmare, because the woman is the wife of Edinburgh's biggest crime lord, Deke Holt. With the police and the Holts closing in, and his shattered family in devastating danger, Tyler meets posh girl Flick in another stranger's house, and he thinks she may just be his salvation ... unless he drags her down too. _________________ 'It's as psychologically rich as it is harrowing.
I've come to expect nothing less from Doug Johnstone, one of the genre's premiere writers' Megan Abbott 'Breakers again shows that Doug Johnstone is a noir heavyweight and a master of gritty realism.
This may be his finest novel yet' Willy Vlautin 'Doug Johnstone is for me the perfect free-range writer, respectful of conventions but never bound by them, never hemmed-in.
Each book is a different world, each book something new in this world' James Sallis 'Bloody brilliant.
Gut punch after gut punch after gut punch and you can't put it down.
But it's the final, huge punch to the heart that blows you away ...
This is premier league crime writing' Martyn Waites 'A tough, gritty and effective ride into the dark side of Edinburgh' Douglas Skelton 'Pacy, harrowing and occasionally brutal, it's a stunning thriller about poisonous families and one decent kid's desperate attempt to do the right thing.
Had me in tears at the end...' Paddy Magrane 'Loved this one ... it may be Doug Johnstone's best, in fact - unusual perspective on Scottish crime that just knocks it out the park' Russel McLean 'The tale is both horrifying and uplifting, and one of those books I looked forward to picking up each time I had a moment to read ...
I hope it does as well as it deserves to' James Oswald 'Oh.
My. God. This was sooo good. Read it in two days. Gripping, dark, fast, but still somehow full of heart' Louise Beech 'A brooding, intensely dark thriller with a defiant beating heart.
Evocative, heartbreaking and hopeful - the power of the human spirit to shine in the most desperate place ...
STUNNING' Miranda Dickinson
Information
Format:Paperback / softback
Pages:300 pages
Publisher:Orenda Books
Publication Date:16/05/2019
Category:
ISBN:9781912374670