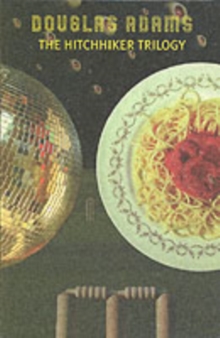 Douglas Adams Picador Boxset
Book
Information
Format: Book
Publisher: Pan Macmillan
Publication Date: 01/08/2003
Category: Anthologies (non-poetry)
ISBN: 9780330437561
Free Home Delivery
on all orders
Pick up orders
from local bookshops
Reviews
Showing 1 - 4 of 4 reviews.
Review by SimoneA
16/06/2015
Love this series! It's one of the few books that has made me laugh out loud in public. I especially love the first book, and of course God's Final Message to his Creation. I have read the series three times now, and plan to reread it many times more!
Review by Frozeninside
16/06/2015
It's the first book in his trilogy of 5 and it was apsolutly amazing. I can't believe I've wait this long to read these books. If you haven't read this book you must. I can't remember the last time I've laughed out this much while reading a book. My fiance has read them, as they are his books, so when ever he hears crack up he wants to know what part I'm at. It is such a refreshing read.
Review by twig_tea
16/06/2015
These books are so crazy that they're sane. Or maybe so sane that they're completely crazy. In any case they mess with my mind and they make me scream with laughter and so I love them.
Review by collinmaessen
16/06/2015
The Hitchhikers Guide to the Galaxy has to be one of the most memorable science fictions books I've ever read. The story gives the most outlandish, and funny, explanations for phenomenon or technology used in the book (bistromathematics comes to mind). And thus you are guided through a bizarre universe with even more bizarre things happening to our main characters. And the main characters of the book are dragged all over space and time, more often than not reluctantly or completely against their wishes.A book filled with memorable and well written characters. I recommend this book to anyone who likes science fiction and likes to be surprised with a lot of nonsensical silliness and humour.