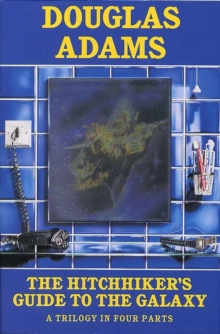 Hitchhiker Trilogy : A Trilogy in Four Parts
Paperback
Description
The Hitchhiker's Guide to the Galaxy One Thursday lunchtime the Earth gets unexpectedly demolished to make way for a new hyperspace bypass.
For Arthur Dent, who has only just had his house demolished that morning, this seems already to be more than he can cope with.
Sadly, however, the weekend has only just begun, and the Galaxy is a very very very large and startling place.
The Restaurant at the End of the Universe When all questions of space, time, matter adn the nature of being have been resolved, only one question remains - 'Where shall we have dinner?' The Restaurant at the End of the Universe provides the ultimate gastronomic experience, and for once there is no morning after to worry about.
Life, the Universe and Everything In consequence of a number of stunning catastrophes, Arthur Dent is surprised to find himself living in a hideously miserable cave on prehistoric Earth.
However, just as he thinks that things cannot possibly get any worse, they suddenly do.
He discovers that the Galaxy is not only mind-boggling big and bewildering but also that most of the things that happen in it are staggeringly unfair. So Long, and Thanks for All the Fish Just as Arthur Dent's sense of reality is in its dickiest state he suddenly finds the girl of his dreams.
He finds her in the last place in the Universe in which he would expect to find anything at all, but which 3,976,000 people will find oddly familiar.
They go in search of God's Final Message to His Creation and, in a dramatic break with tradition, actually find it.
Information
Format: Paperback
Pages: 592 pages
Publisher: Pan Macmillan
Publication Date: 01/10/1992
Category: Science fiction
ISBN: 9780330316118
Free Home Delivery
on all orders
Pick up orders
from local bookshops
Reviews
Showing 1 - 2 of 2 reviews.
Review by Schmerguls
16/06/2015
I read this because it sometimes appears on "best books" lists. I found it incredibly boring until the fourth part (So Long, and Thanks for All the Fish), which fourth part was funny and had some semblance of being connected with some reality. Overall, I found reading this an awful waste of time, and I was till I read the fourth part going to give it one-half star, but decided to be generous and give it a whole star becaus of the humor in the fourth part.
Review by cappybear
16/06/2015
I read the trilogy ten years ago after Peter Jones (the Voice of the Book in the radio series) died. I found the first two books hilarious, and at times inspired but Adams seemed to lose his way after that and the final book was a mistake. All in all, not nearly as good as it's made out to be, and the less said about the film, the better.