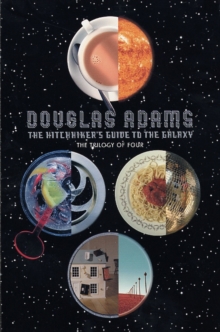 The Hitchhiker's Guide to the Galaxy: the Trilogy of Four : A Trilogy in Four Parts
Paperback
Description
HE HITCHIKER'S GUIDE TO THE GALAXY: One Thursday lunchtime the Earth gets demolished to make way for a hyperspace bypass.
For Arthur, who has just had his house demolished, this is too much.
Sadly, the weekend's just begun. THE RESTAURANT AT THE END OF THE UNIVERSE: When all issues of space, time, matter and the nature of being are resolved, only one question remains: Where shall we have dinner?
The Restaurant at the End of the Universe provides the ultimate gastronomic experience and, for once, there is no morning after.
LIFE, THE UNIVERSE AND EVERYTHING: In consequence of a number of stunning catastrophes, Arthur Dent is surprised to find himself living in a hideously miserable cave on prehistoric Earth. And then, just as he thinks that things cannot possibly get any worse, they suddenly do.
SO LONG, AND THANKS FOR ALL THE FISH: Arthur Dent's sense of reality is in its dickiest state when he suddenly finds the girl of his dreams.
They go in search of God's Final Message and, in a dramatic break with tradition, actually find it.
Information
Format: Paperback
Pages: 784 pages
Publisher: Pan Macmillan
Publication Date: 08/03/2002
Category: Science fiction
ISBN: 9780330492041
Free Home Delivery
on all orders
Pick up orders
from local bookshops
Reviews
Showing 1 - 5 of 7 reviews.
Previous | Next
Review by the.ken.petersen
16/06/2015
Re-reading this book twenty plus years after first reading its component parts, made me realize several things; firstly, how much better the radio series was when compared to the books. It is also very apparent that books two and, particularly three, were written with more concern for fiscal recompense than artistic merit.Hitchhiker's was the first si-fi comedy, of which I am aware, that was genuinely funny and I would be the last to try to diminish its place in history but, I do wonder if it became a bit of an albatross to Adams. He did seem to spend most of his life enmeshed in HHG2G and only towards the end did he produce anything really worthy of being a follow up to the original hitchhiker's, in the form of, Last Chance to See.I would like to have seen Adams write more outside of the science fiction genre. His strength is the way he sees things, slightly differently to the rest of us. The joke aboard the Vogon ship about space travel being like drinking a glass of water, sums up his askance view of the world but, his ideas of the future are not that sharp. At one stage, we have Arthur playing a record which is typical of a lack of futuristic thought.I had this book labelled as a five star read, based upon my initial enthusiasm for the story. Upon re-reading, this has been downwardly revised to three and a half: worth reading, but listening to it would be better.
Review by bdamokos
16/06/2015
I have read this book many a time, and it has never failed me. I bought my copy on the day of the second 7/7 bombings in London, and after the things calmed down I read it as fast as I possibly could.I became a fan instantly. I believe everyone should read at least the first book to have the chance to enjoy such witty phrases as in "the ships hang in the air exactly as bricks don't" (not word-by-word quote) and to learn the significance of a towel or the number 42.
Review by kevinashley
16/06/2015
I thought I had read all of these as they came out, as well as listened to the radio series at the time, but over the years I've lost all the individual books, so was glad to buy this combined volume. I've been reading this on and off for about six months; I saved the final book until an opportune moment. I thought it would all be re-reading, but much of "So Long..." seemed entirely new to me - if I have read it before my memory has completely failed me. It was all magically entertaining and so, so easy to read and yet so full of ideas. A treasure. And now I realise I don't have a copy of "Mostly Harmless" and need to acquire one forthwith.
Review by Neale
16/06/2015
A trilogy in four parts - its took four parts to get all the jokes in. The first two are brilliant the second two just great. A great read. The BBC TV serie was wonderful and captured the tone of the books so well. Its a pity we didn't learn more about the the dolphins in the last book.
Review by Intemerata
16/06/2015
Re-reading these all in one go made me realise how much better the first book is than the other three. Hitchhiker's Guide to the Galaxy is an absolute modern classic, and So Long And Thanks For All The Fish is great as well, but I found the other two rather more hit-or-miss this time round. This omnibus edition has a distracting number of typos in it - I don't know whether the same's true of the individually published books, but this one certainly needs a good copy-edit.