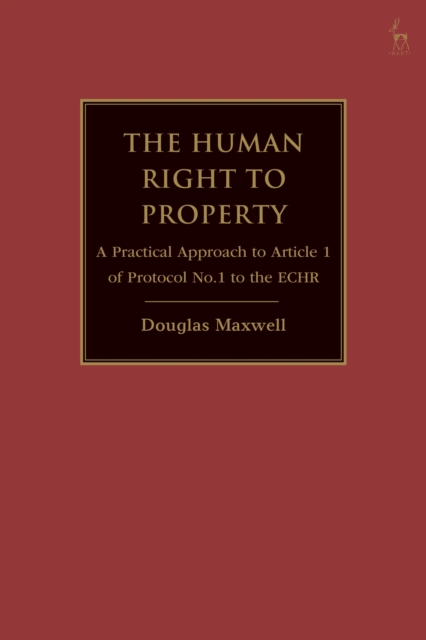 The Human Right to Property : A Practical Approach to Article 1 of Protocol No.1 to the ECHR
Hardback
Description
"This is an excellent work. It is deeply researched, and the analysis of case law will prove very valuable to practitioners and academics seeking a synthesis of the law on an issue".
The Rt. Hon. Lord Justice Green, Judge of the Court of Appeal of England and Wales and Chair of the Law Commission "A valuable contribution to the jurisprudence on Article 1 Protocol No.1 and of much interest to both property and human rights lawyers"Professor Sarah Nield, University of Southampton"The pervasiveness of A1P1 through contemporary property law makes this a serious and comprehensive study.
This book masterfully interweaves theory and doctrinal law.
It is both timely and necessary for academics and practitioners working in this area." David Sawtell, 39 Essex Chambers and Cambridge UniversityThis book provides a highly detailed, practical analysis of Article 1 of Protocol No.1 (A1P1) and its implications in the United Kingdom.
A1P1 prescribes a qualified right to the peaceful enjoyment of 'possessions'.
This right corresponds to a negative limit on legislators and public authorities to rationalise interferences with possessions and, where necessary, to strike a fair balance, often requiring just compensation. Through lively and rigorous commentary on the latest advances made by the European Court of Human Rights and domestic courts, The Human Right to Property enriches current understanding of the peaceful enjoyment of property since the enactment of the Human Rights Act 1998.
Exploring the theoretical and political foundations of A1P1, the book guides the reader through the relevant case law from the earliest developments in Strasbourg to the present day.
The Human Right to Property concludes that the most significant impacts of A1P1 are that it: forces States to justify interferences; limits radical redistributions of property; and casts a wider shadow over legislative choice and public body decision-making.
Information
Format:Hardback
Pages:472 pages
Publisher:Bloomsbury Publishing PLC
Publication Date:14/07/2022
Category:
ISBN:9781509961108
Information
Format:Hardback
Pages:472 pages
Publisher:Bloomsbury Publishing PLC
Publication Date:14/07/2022
Category:
ISBN:9781509961108