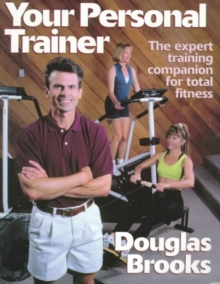 Your Personal Trainer
Paperback / softback
Description
Are you struggling to develop an exercise program? Having trouble sticking with your current program? Dissatisfied with the results you're seeing-or not seeing?
Your Personal Trainer gives you customized, expert training advice that will help you get the results you want. And it does so at a fraction of the cost of hiring your own trainer!
Douglas Brooks-one of the top personal trainers in the United States-shares his no-nonsense, results-oriented approach to training.
He offers no quick fixes, but what he does offer are proven effective exercise programs and techniques similar to those he prescribes to his clients every day.
Your Personal Trainer provides individually tailored programs, structured workouts, and planned training cycles, all featuring the latest exercise information available to help you achieve your fitness goals.
Here's just a sampling of the many features you'll find: - Guidelines for scheduling your workouts- Recommended stretches and strength exercises- Interval training models- Warm-up and cool-down techniques - Advice on cross-training- Nutrition tips - Hints for building in rest and recovery- Self-tests for tracking your progressThrough it all, Brooks will keep you motivated and make your exercise program fun, not drudgery.
Regardless of your fitness level, the time-tested techniques in Your Personal Trainer will give you a training advantage and empower you to take control of your fitness and health. If you're a personal trainer, you too can use Your Personal Trainer to better serve your clients.
You'll find state-of-the-art advice on how to build a training regimen around your clients' specific needs, limitations, and goals.
Plus, you'll learn Brooks' techniques for motivating clients.
Information
Format: Paperback / softback
Pages: 264 pages, 8 black & white illustrations, 75 black & white halftones
Publisher: Human Kinetics Publishers
Publication Date: 01/03/1999
Category: Exercise & workout books
ISBN: 9780880118613