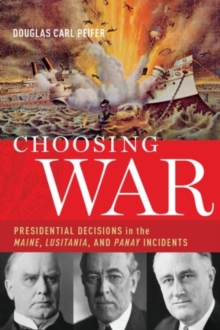 Choosing War : Presidential Decisions in the Maine, Lusitania, and Panay Incidents
Hardback
Description
China's expanding air and naval capabilities, coupled with the proliferation of long-range anti-ship and anti-air missile systems, are making US naval diplomacy an increasingly risky enterprise.
It is surprising therefore how little attention has been devoted to comparing the way in which different administrations have reacted in dissimilar manners to major naval incidents.
This book provides the first comparative analysis of multiple cases.
In particular, itexamines three incidents: the Maine incident (1898), which led to war in the short term; the Lusitania crisis (1915), which set the trajectory for intervention; and the Panay incident (1937), which was settled diplomatically.
After scrutinizing these incidents and the domestic and international factors shaping the subsequent crisis, Douglas Carl Peifer analyses the presidential decision making in terms of options considered and policies selected.
The book draws upon international relations and coercion theory but emphasizes the importance of context, complexity, and contingency when assessing presidential decision making.
The contemporary tensions in East Asia, the Persian Gulf, the Baltic, and the Black Sea areincreasingly vexing US naval diplomacy.
By analyzing how Presidents William McKinley, Woodrow Wilson, and Franklin Delano Roosevelt responded to the Maine, Lusitania, and Panay incidents, this book provides an essential instrument to deal with the growing threats of a new naval crisis.
Information
Format: Hardback
Pages: 344 pages, 24 illus.
Publisher: Oxford University Press Inc
Publication Date: 21/07/2016
Category: History of the Americas
ISBN: 9780190268688
Free Home Delivery
on all orders
Pick up orders
from local bookshops