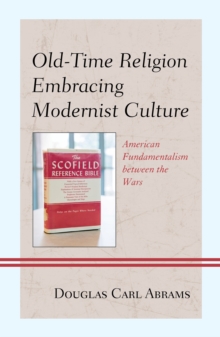 Old-Time Religion Embracing Modernist Culture : American Fundamentalism Between the Wars
Hardback
Description
Old-Time Religion Embracing Modernist Culture focuses on the founding generation of American fundamentalism in the 1920s and 1930s and their interactions with modernity.
While there were culture wars, there was also an embrace.
Through a book culture, fostered by liberal Protestants, and thriving periodicals, they strengthened their place in American culture and their adaptation helps explain their resilience in the decades to come. The most significant adaptation to modernist culture was the embrace of the modern, secular university as a model for evangelical higher education.
After political battles along sectarian lines in the twenties, fundamentalists learned to compete in a pluralist society.
By the thirties they were among the strongest supporters of Jews and began working with Catholics to fight communism.
In politics and higher education they encountered issues of race, gender, and class. While opposing higher critics of the Bible, their approaches to texts were in some cases similar: a focus on the original languages, commitment to scholarship, ambiguities about both the role of reason and the interpretation of key doctrines.
Several had graduate training, some even in European universities.
With their views of end times, they continued innovative approaches to prophetic texts from nineteenth-century dispensationalists. In response to evolution and prophetic texts, in a time-conscious age, they also had innovative ideas about biblical time. Fundamentalists engaged in debate with Freud and, while rejecting his ideas, absorbed elements of psychology.
Some understood William James' effort to accommodate religion and modern ideas.
Although rejecting John Dewey's pragmatism, fundamentalists found value in studying modern philosophy.
They tapped a secular, Enlightenment philosophy to defend their supernatural Christianity.
Between the wars they even participated in the interest in Nietzsche.
Usually dismissed as fractious, they rose above core differences and cooperated among themselves across denominational lines in building organizations.
In doing so, they reflected both the ecumenism of the liberal Protestants and the organizational impulse in modern urban, industrial society. This study, the first to focus on the founding generation, also covers a broad spectrum of fundamentalists, from the Northeast, Midwest, the South, and the West Coast, including some often overlooked by other historians
Information
Format: Hardback
Pages: 258 pages
Publisher: Lexington Books
Publication Date: 07/12/2016
Category: Religion & science
ISBN: 9781498545051
Free Home Delivery
on all orders
Pick up orders
from local bookshops
Also by Douglas Carl Abrams