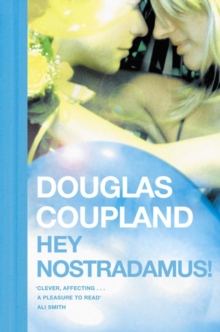 Hey Nostradamus!
Paperback
Description
The story of one family piecing itself back together after a tragic highschool shooting, Hey Nostradamus! is Douglas Coupland's most soulful, piercing and searching novel yet.Pregnant and secretly married, Cheryl Anway scribbles her last will and testament - and erie premonition - on a school binder shortly before a rampaging trio of misfit classmates gun her down in a high school cafeteria.
Overrun with paranoia, teenage angst and religious zeal in the ensuing massacre's wake, this sleepy Vancouver neighbourhood declares its saints, brands its demons and finally moves on.But for a handful of people still reeling from that horrific day, life remains perpetually derailed.
Four dramatically different characters tell their stories in their own words: Cheryl, who calmly narrates her own death; Jason, the boy no one knew was her husband, still marooned ten years later by his loss; Heather, the woman trying to love the shattered Jason; and Jason's father Reg, a cruelly religious man no one suspects is still worth loving.
Each wrestles with God, self-defeat and a crippling inability to hold on to those they love.Coupland's most surprising and soulful novel yet, rich with his trademark cultural acuity and dark humour, Hey Nostradamus! ties themes of alienation, violence and misguided faith into a fateful and unforgettable knot from which four people must untangle their lives.
Information
Format: Paperback
Pages: 336 pages
Publisher: HarperCollins Publishers
Publication Date: 15/03/2004
ISBN: 9780007162512
Free Home Delivery
on all orders
Pick up orders
from local bookshops
Reviews
Showing 1 - 3 of 3 reviews.
Review by phoebesmum
16/06/2015
Relies heavily on (Christian) faith to get its point across; hard to find any sympathy for the scary religious freaks that infest the story, but the lost souls of the bereaved husband and of the woman who loves him are heartbreaking.
Review by eleanor_eader
16/06/2015
The best thing about this novel is that it gets progressively more interesting. The themes are enriched with each change of narrator; Coupland layers faith, murder, personal insight and growth into something multifaceted and thought-provoking. Cheryl, a teenage girl, has been cut down by a school shooting, and will never grow past the newly-ascribed role of martyr; Jason, her high-school sweetheart and husband, spends his early twenties not talking to anyone, buried in work or drinking with an assortment of friends and associates, some of whom he has only met during blackouts. We meet, also, his new girlfriend, the wonderful Heather who brings him out of his spiral, only to have her lose him. And finally, Reg; Jason's devout and embittered father who has changed from the religion-defining monster that Jason knew growing up to a man capable of introspection, who refuses to accept that this change has arrived too late to benefit his son. No, I've changed my mind – the <i>best</i> thing about this novel is the unexpectedness of each event. <i>Hey, Nostradamus!</i> might be written in the wake of a school shooting, but it doesn't suggest that life – or death – stop there. Things keep happening, unexpected things, some connected to Cheryl, some entirely random. I love Coupland's writing – he's hardly there at all, he hands it all over to his characters – but I love, more, the way he portrays life, change, growth as unstoppable. Also, he made my jaw drop at one point, for the most entirely unexpected murder I've ever read. Most authors barely manage a blink, I'm so inured to fictional death. Coupland got in under the radar and impressed the hell out of me.
Review by brokenangelkisses
16/06/2015
The blurb really didn't 'sell' this book to me. It states that a 17 year old girl, secretly married and pregnant and heavily into God, is shot dead. Sad, obviously, but this barely sounds like a story. The fact that the publishers had prioritised lengthy praise from critics over a decent blurb also left me cold. Here's what might have interested me, had someone told me: Coupland took a fictional high school massacre and used it (partly) to explore the impact on the victims. According to interviews he gave regarding the novel, he wanted to focus on this rather than on the motives and stories of the killers themselves. Apparently, he felt that the killers had received plenty of attention and that his interest lay in the victims. Now, that would have made me want to read the story. As it was, I was anticipating a teen love drama, (judging from the limited blurb and image on the cover of two young lovebirds,) and I was ready to be underwhelmed. The novel is separated into four distinct parts with four very different narrators, to which I had surprisingly distinct responses.CherylCheryl is our first narrator. She is 17, secretly married and pregnant. This created my first problem. Why on earth was she secretly married? There did not appear to be any Romeo and Juliet style situation going on; she hadn't been pregnant before they got married. It seemed to come down to sex: having undergone a conversion to Christianity in order to sink her claws into fellow teen Jason, Cheryl insists that they marry before 'doing the dirty'. I felt that this was a rather ridiculous plotline, but perhaps my resistance was more due to my lack of contact with genuine religious conviction in my day to day life than a flaw in Coupland's storytelling. I imagine that there are areas in America, and indeed elsewhere, where this would seem perfectly feasible.My second issue was even more personal: she's dead. Gradually, interspersed with an account of an otherwise largely ordinary day, Cheryl reveals the events on the day of her death. In 40 odd pages she reflects upon her relationships with family, friends and her husband. Fine. Fair enough. But she also hears prayers, other people struggling to come to terms with the massacre. She is in some nebulous place where she is privileged to hear only prayers and curses. Well, this kind of fiction simply isn't for me. Cheryl irritated me. Hugely. She was unambitious and manipulative. She accepted death.And yet. On reflection, she was honest and was looking back over her life critically, examining 'the big themes' – love, faith, grief. It may be that other readers, of a more patient disposition than myself, actually find this section of the novel quite interesting. I don't believe in purgatory and I couldn't suspend my disbelief, so I felt quite 'out of touch' in this section.JasonJason's narrative is given the most space in the book, running to just over 100 pages. Despite the years that have passed, his opening words refer to the massacre and it quickly becomes apparent why: he has never escaped it. This is a logical and yet sad development; I found it convincing and quite interesting to read about the impact that it had on his life. I quickly felt that his voice was distinctive and that his perspective was more interesting than Cheryl's.Jason's memories of Cheryl, his parents and the massacre are gradually unravelled and paint quite a dark picture of life. I found the characterisation initially convincing, especially in recounting Jason's relationship with his rather difficult father, who is an exceedingly literal minded Christian. Their arguments are at once surreal and spot on: this is how families wind each other up. This felt like a better section of the novel to me because I could engage realistically with the material.However. Gradually, it transpires that he is writing a letter to his nephews, which started to feel distinctly odd as the content became more and more unusual, and not the sort of thing one would normally reveal to family. By the close of Jason's narrative, I was shocked by the ridiculous plot developments, which I felt to be utterly unconvincing, and left rather cold by Jason's perspective on life. On the one hand, I felt I could see that Coupland wanted to present Jason as damaged and for the reader to empathise with him, but I was unable to do so when his life slid so far out of kilter.HeatherHeather was the character I identified with the most, which I found interesting because she was most tangentially connected to the massacre and the most 'normal' (in so far as that word is ever appropriate). I found Heather to be a very sympathetic character and felt that she had the most engaging 'voice' in the collection of voices Coupland develops. I identified in particular with her view on relationships, that the successful ones were based on banter and a shared understanding rather than sex.Heather has been dating Jason, which seems to imply that he has made progress, but the inner world they create together suggests a desire to disengage with reality altogether and create something they can control. Of course, life doesn't allow you to do that, and there is a dramatic development in this section of the novel. In fact, events become odder and odder as this narrative progresses and I was left with a lot of questions by the end. Once again, life is presented as harsh and other people as fundamentally untrustworthy.RegIn some ways, Reg is the most interesting character of them all. This is Jason's father, but not quite as he knows him. By closing his novel with Reg, Coupland appears to provide a sense of hope, and yet there is a startling lack of resolution.ConclusionsI feel obliged to state that I found this novel frustrating. I like stories to be realistic and to have a sense of closure. I felt that this novel did neither. Overall, I found it quite depressing reading. However, this is of course an individual viewpoint and it's also worth stating that I thought Coupland successfully created four distinct voices and explored important issues surrounding faith, love and the possibility of redemption. The bonus material at the end of the book contains some interesting background information.