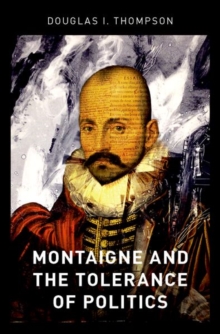 Montaigne and the Tolerance of Politics
Hardback
Description
Toleration is one of the most studied concepts in contemporary political theory and philosophy, yet the range of contemporary normative prescriptions concerning how to do toleration or how to be tolerant is remarkably narrow and limited.
The literature is largely dominated by a neo-Kantian moral-juridical frame, in which toleration is a matter to be decided in terms of constitutional rights.
According to this framework, cooperation equates to public reasonablenessand willingness to engage in certain types of civil moral dialogue.
Crucially, this vision of politics makes no claims about how to cultivate and secure the conditions required to make cooperation possible in the first place.
It also has little to say about how to motivate one to become a tolerantperson.
Instead it offers highly abstract ideas that do not by themselves suggest what political activity is required to negotiate overlapping values and interests in which cooperation is not already assured.
Contemporary thinking about toleration indicates, paradoxically, an intolerance of politics. Montaigne and the Tolerance of Politics argues for toleration as a practice of negotiation, looking to a philosopher not usually considered political: Michel de Montaigne.
For Montaigne, toleration is an expansive, active practice of political endurance in negotiating public goods across lines of value difference.
In other words, to be tolerant means to possess a particular set of political capacities for negotiation.
What matters most is not how we talk to our political opponents, butthat we talk to each other across lines of disagreement.
Douglas I. Thompson draws on Montaigne's Essais to recover the idea that political negotiation grows out of genuine care for public goods and the establishment of political trust.
He argues that we need a Montaignian conception of toleration today ifwe are to negotiate effectively the circumstances of increasing political polarization and ongoing value conflict, and he applies this notion to current debates in political theory as well as contemporary issues, including the problem of migration and refugee asylum.
Additionally, for Montaigne scholars, he reads the Essais principally as a work of public political education, and resituates the work as an extension of Montaigne's political activity as a high-level negotiator betweenCatholic and Huguenot parties during the French Wars of Religion.
Ultimately, this book argues that Montaigne's view of tolerance is worth recovering and reconsidering in contemporary democratic societies where political leaders and ordinary citizens are becoming less able to talk to each other to resolvepolitical conflicts and work for shared public goods.
Information
Format: Hardback
Pages: 248 pages
Publisher: Oxford University Press Inc
Publication Date: 08/03/2018
Category: Philosophy
ISBN: 9780190679934
Free Home Delivery
on all orders
Pick up orders
from local bookshops