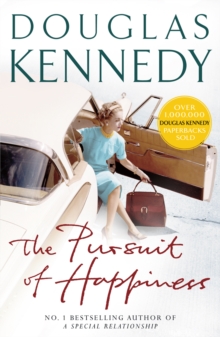 The Pursuit of Happiness
Paperback
Description
The critically acclaimed bestseller from the number one bestselling author of The Moment and A Special Relationship.
A powerful romantic novel set in the tumultuous world of post-war America.
New York, 1945 - Sara Smythe, a young, beautiful and intelligent woman, ready to make her own way in the big city, attends her brother's Thanksgiving Eve party.
As the party gets into full swing, in walks Jack Malone, a US Army journalist back from a defeated Germany and a man unlike any Sara has ever met before - one who is destined to change Sara's future forever.
But finding love isn't the same as finding happiness - as Sara and Jack soon find out.
In post-war America chance meetings aren't always as they seem, and people's choices can often have profound repercussions.
Sara and Jack find they are subject to forces beyond their control and that their destinies are formed by more than just circumstance.
In this world of intrigue and emotional conflict, Sara must fight to survive - against Jack, as much as for him. In this mesmerising tale of longing and betrayal, The Pursuit of Happiness is a great tragic love story; a tale of divided loyalties, decisive moral choices, and the random workings of destiny.
Information
Format: Paperback
Pages: 672 pages
Publisher: Cornerstone
Publication Date: 07/06/2002
ISBN: 9780099415374
Free Home Delivery
on all orders
Pick up orders
from local bookshops
Reviews
Showing 1 - 1 of 1 reviews.
Review by lecari
16/06/2015
This book really should come under 'boring mush,' because it doesn't cover much other than matters of the heart, but I can't do that. This book is so incredibly well-written, that it seems to be so much more than that. I couldn't put this down (or rather, I could, only because I didn't want it to end, I was enjoying reading it that much – a rare thing!). The book starts off from the point of view of Kate, a recently divorced single mother with a young son. Her mother has just died (the author really throws you into the deep end, emotionally!), and she is hoping for some time alone to mourn, but keeps receiving phone calls and letters from a woman named Sara Smythe. Eventually she goes round to her apartment to ask for the harassment to stop, finding her apartment covered in photos of her and her brother. The author makes Sara seem like a stalker, a strange old woman, but then it switches to Sara's point of view. She has given Kate a book, in which she tells her (exciting!) life-story, and this is the major chunk of the book.I loved the characters, and I was amazed that the author is male – both points of view are from female characters, and it's rare when authors can relate to the opposite sex so well. He has every emotion and feeling down completely, and has the most amazing way with words. I wish I was able to make my feelings that clear!I cannot recommend this book enough. This is definitely going to be one of my ultimate favourites, that I will actually re-read later on (the other one that comes to mind that's similar to this is Paullina Simons' Tully, which I feel the same way about).