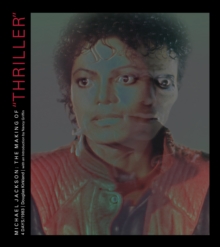 Michael Jackson : The Making of Thiller: 4 Days/1983
Hardback
Description
Michael Jackson is one of the world's most revered performers, and with his untimely death, his legend has grown all the larger. The subject has tremendous appeal for the press worldwide. Douglas Kirkland is Glitterati's best-selling author and will be available to promote the book. Michael Jackson: The Making of "Thriller": 4 Days/1983 will launch on Michael Jackson's birthday: August 29 for added publicity and exposure. Michael Jackson's 'Thriller' made music history as MTV's first world premiere video when the 13-minute epic was released on December 2, 1983.
Directed by John Landis, who co-wrote the screenplay with Michael Jackson, 'Thriller' was budgeted at half a million dollars in production.
It has sold 9 million units to date. In 2009, this landmark video was inducted into the National Film Registry of the Library of Congress, the first music video ever to receive this honour. With exclusive access to the set of 'Thriller', photographer Douglas Kirkland documented Jackson in all his glory.
Michael Jackson: The Making of "Thriller": 4 Days/1983 is an exquisite tribute to the King of Pop.
With a hologram cover of Jackson's remarkable transformation from pop star into dark zombie, the book features 200 never-before-seen photographs .
We witness the grandeur and the glory of this production that has made Jackson one of the most beloved artists of our age.
Compelling, intimate photos of the artist are accompanied by interviews and quotes from musicians and celebrities, including Sir Paul McCartney, Beyonce, Diddy, Beyonce, Steven Spielberg and many more.
Information
Format:Hardback
Pages:192 pages, 200 colour
Publisher:Glitterati Inc
Publication Date:05/09/2014
Category:
ISBN:9780991341993