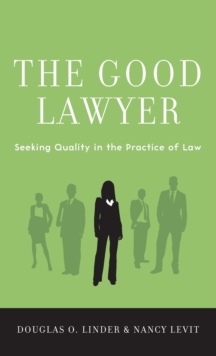 The Good Lawyer : Seeking Quality in the Practice of Law
Hardback
Description
Every lawyer wants to be a good lawyer. They want to do right by their clients, contribute to the professional community, become good colleagues, interact effectively with people of all persuasions, and choose the right cases.
All of these skills and behaviors are important, but they spring from hard-to-identify foundational qualities necessary for good lawyering.
After focusing for three years on getting high grades and sharpening analytical skills, far too manylawyers leave law school without a real sense of what it takes to be a good lawyer. In The Good Lawyer, a follow up to their book The Happy Lawyer, law professors Douglas O.
Linder and Nancy Levit combine evidence from the latest social science research with numerous engaging accounts of able attorneys at work to explain just what makes a good lawyer.
They organize the book around the qualities they see as crucial: courage, empathy, integrity, realism, a strong sense of justice, clarity of purpose, and an ability to transcend emotionalism.
But as the authorspoint out, each one must be apportioned in the right measure, and achieving the right balance is difficult.
Lawyers need to know when to empathize and also when to detach; courage without an appreciation of consequences becomes recklessness. And what do you do in tricky situations, where the urge to deceive is high?How can you maintain focus through a mind-taxing (or mind-numbing) project?
Every lawyer faces these problems at some point - they're inherent in the nature of the work-but if properly recognized and approached, they can be overcome.
It's not easy being good - quality is less something one grasps and hangs onto than a goal that requires constant striving and attention - but this engaging guide will serve as a handbook for any lawyer trying not only to figure out how to respond to difficult situations, but how to become a better - meaning both more competent and more virtuous - lawyer.
Information
Format: Hardback
Pages: 360 pages
Publisher: Oxford University Press Inc
Publication Date: 26/06/2014
Category: Legal profession: general
ISBN: 9780199360239
Free Home Delivery
on all orders
Pick up orders
from local bookshops