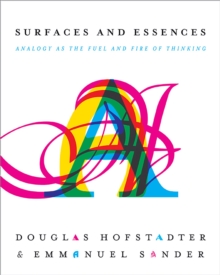 Surfaces and Essences : Analogy as the Fuel and Fire of Thinking
Hardback
Description
Analogy is the core of all thinking. This is the simple but unorthodox premise that Pulitzer Prize-winning author Douglas Hofstadter and French psychologist Emmanuel Sander defend in their new work.
Hofstadter has been grappling with the mysteries of human thought for over thirty years.
Now, with his trademark wit and special talent for making complex ideas vivid, he has partnered with Sander to put forth a highly novel perspective on cognition.We are constantly faced with a swirling and intermingling multitude of ill-defined situations.
Our brain's job is to try to make sense of this unpredictable, swarming chaos of stimuli.
How does it do so? The ceaseless hail of input triggers analogies galore, helping us to pinpoint the essence of what is going on.
Often this means the spontaneous evocation of words, sometimes idioms, sometimes the triggering of nameless, long-buried memories.Why did two-year-old Camille proudly exclaim, I undressed the banana!"?
Why do people who hear a story often blurt out, Exactly the same thing happened to me!" when it was a completely different event?
How do we recognize an aggressive driver from a split-second glance in our rearview mirror?What in a friend's remark triggers the offhand reply, That's just sour grapes"?
What did Albert Einstein see that made him suspect that light consists of particles when a century of research had driven the final nail in the coffin of that long-dead idea?The answer to all these questions, of course, is analogy-making ,the meat and potatoes, the heart and soul, the fuel and fire, the gist and the crux, the lifeblood and the wellsprings of thought.
Analogy-making, far from happening at rare intervals, occurs at all moments, defining thinking from top to toe, from the tiniest and most fleeting thoughts to the most creative scientific insights.Like Godel, Escher, Bach before it, Surfaces and Essences will profoundly enrich our understanding of our own minds. By plunging the reader into an extraordinary variety of colourful situations involving language, thought, and memory, by revealing bit by bit the constantly churning cognitive mechanisms normally completely hidden from view, and by discovering in them one central, invariant core,the incessant, unconscious quest for strong analogical links to past experiences,this book puts forth a radical and deeply surprising new vision of the act of thinking.
Information
Format: Hardback
Pages: 592 pages, 10 b&w illustrations
Publisher: INGRAM PUBLISHER SERVICES US
Publication Date: 19/05/2011
Category: Philosophy of mind
ISBN: 9780465018475
Free Home Delivery
on all orders
Pick up orders
from local bookshops
Reviews
Showing 1 - 4 of 4 reviews.
Review by NielsenGW
16/06/2015
Douglas Hofstadter and Emmanuel Sander's Surfaces and Essences is written for one purpose: to make you think. It not only makes you think, it makes you think about thinking and think about language and think about the language of thinking (it's a pretty thoughful book). The authors' main premise is that analogy is the root of thought and language. Their definition of an analogy is an instance where a current thought, experience, or linguistic device is compared to another so that it can be fully comprehended. All thing have an analog to some other thing. Without analogy, they claim, modern thought and language fall apart. This is a very interesting proposition mainly due to the fact that we need language to define the pieces of language and therefore everything has to compared to everything else. It's a wonderfully tight system. It also compares English language analogies to other foreign languages to help define a perspective for certain modes of thinking, which I think is a rather astute inclusion.The problem comes, however, after reading 400 or so pages of same basic argument with each nuance painfully drawn out until there's no more juice left to think with. Hofstadter and Sander do a good job of providing examples for each of their arguments and propositions, but they, more often than not, provide way too many examples. You don't just get one or two—you get a good half-page's worth. This can get tedious after a while. Now, I enjoyed just how enthusiastic the authors were about philosophy and logic, but I probably won't pick this up again for a good long while.
Review by DavidWineberg
16/06/2015
Easy to put downThere is obvious passion and great times exhibited by the authors in Surfaces and Essences. They were back and forth between the US and France for years over this. You can feel them sitting around the table, tossing off words, analogs, and examples and probably laughing out loud, till the wine ran out. The boys were having their fun. And it shows. The book is very sprightly. As long as they were at it, they even did a French version, presumably with the examples reversed to show how French differs from English, as opposed to how English differs from French. They kept up the pace and had great enthusiasm for the task, that clearly never lagged. It shows bounce.Sadly, it also shows overkill. Why give an example or two when you can list fifty or a hundred? Why tell a story when you can tell five of them (all illustrating the same point)? Sometimes they reorder the examples to make a nice pyramid shape, or a sharp upside down pyramid. They worked on phrases until they contained the exact number of letters they needed for the design. Sometimes the examples just run to a whole page, separated by commas. The subheadings have a tendency to be so clever, precious and cute that they give no clue as to the content.But the real problem is that the book is entirely horizontal, without also being linear. It does not build. It doesn't grow. It just keeps spreading outward. This means you can put the book down any time and pick it up a month later without losing anything. You can open to any page and start reading without having missed anything. The book's premise is that categorization is effectively the same as analogy. You might think our brains sort everything into neat categories for quick recall. Actually, what we call up are concepts and events for which there is some connection to what is occupying us at the moment – an analogous situation. But after 500 pages of examples of how words and phrases can be extended and compounded and misinterpreted and translated and categorized ad nauseam, I was in despair of ever getting to the payoff. There isn't one.It ends with a 30 page "epidialogue" between two women on the phone who've just had a similar nightmare, and they argue about categorization vs analogy, referring to various chapters in the book. Really. It's actually quite cute and comprehensive, and truth be known, if you read that first, you don't need to read the book.The "argument" for categorization is never strong; there are too many places to question and refute it, and there too many assumptions I just can't buy and which the authors don't support. Words with capital letters seem to automatically file themselves in their own labeled categories, which presupposes printed language. That can't be right. The etymology of written words further muddies the categorization waters. Words evolve. Meanings evolve. Spellings change. Pronunciations change. It seems to wreak havoc in the ordered world of comprehensive categorizing. And of course, there can't be any such thing as comprehensive categorizing, because it is open ended and infinite, and our brains would have to be the size the universe to accommodate them.Ultimately it doesn't matter, because analogy beats out categorization and subsumes it. So what was the point of those 500+ pages? And what does analogy over categorization give us? How does it change the world or even just the way we see it? What can we do with this important information? What decisions can we make now that we could not before? No hints are given.From what I can see they haven't actually discovered anything. But they had fun doing it.
Review by bobbieharv
16/06/2015
Have to admit I skimmed this book, partly because it was the size and shape of a cookbook and difficult to manage! I have loved Doug's other books, particularly "I am a strange loop," and what I could understand of "Godel Escher Bach," but this, as some other reviewers have eloquently pointed out, seemed to make one point over and over; belaboring this point with way too many examples. I kept thinking I must be missing something.
Review by donnambr
16/06/2015
Quite an intriguing look at the conscious and subconscious use of analogy in everyday thought, communication, empathy, understanding others and their experiences, and making sense of our own experiences in order to avoid or more fully appreciate them in future.<br/><br/>As well-researched and interesting as the book is, I do feel it overruns, often labouring the point or providing an excessive number of examples. That said, it really does break down some aspects of thought and language quite beautifully and is therefore well worth the commitment.<br/><br/>Recommended for anyone with an interest in philosophy, psychology and/or language.<br/><br/>**I received a copy of this book via Netgalley in exchange for a fair and honest review. I did not receive any additional compensation and all views are my own.**
Also by Douglas R. Hofstadter | View all