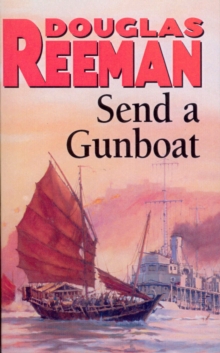 Send a Gunboat : World War 2 Naval Fiction
Paperback
Description
HMS Wagtail is a river gunboat, a ship seemingly at the end of her useful life, lying in a Hong Kong dockyard awaiting her last summons to the breakers' yard. Commander Justin Rolfe is also seemingly at the end of his useful naval life, an embittered man, brooding and angry from a court-martial verdict. Then the offshore island of Santu is threatened with invasion from the Chinese mainland.
The small British community must be brought out and Commander Rolfe and the Wagtail are ordered to the island. The job is regarded with sullen resentment by his crew, but to Rolfe, and even the ship, it is a job that offers the chance of a reprieve and a restoration of self respect.
Information
Format: Paperback
Pages: 256 pages
Publisher: Cornerstone
Publication Date: 06/12/1976
Category: War & combat fiction
ISBN: 9780099070603
Free Home Delivery
on all orders
Pick up orders
from local bookshops
Reviews
Showing 1 - 1 of 1 reviews.
Review by PilgrimJess
16/06/2015
I don't know what it is but I love Reeman's books when he writes under the pseudonym of Alexander Kent and have read virtually all those books but when he writes under his own name they rarely seem to grab me in the same way. Perhaps it is the different ages when the books are set, the Kent series are set in the days of sailing ships and Nelson etc whereas Reeman's own are set during or just after WWII or perhaps it is because Kent's are part of a series so we see how the characters grow over several books whereas Reeman's are generally one offs. Who knows?In many respects this book is stereotypical of so many in the genre. We have a honourable, brave,moody captain damaged by events in his personal life is given an aged ship to command, then fights and wins against impossible odds thus finding both love and redemption but when all said and done it is still a rollicking read, a boy's own adventure told at a breakneck pace. There is little character development other than what's necessary but you still feel for heroes hoping that they will ultimately succeed whilst still giving a reasonable insight into naval life. If you are looking for some thought provoking, long living in the memory read then this is not for you but if you are looking for an escape into days when honour, duty and comradeship had real meaning then give it a whirl.