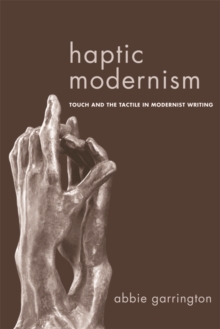 Haptic Modernism : Touch and the Tactile in Modernist Writing
Hardback
Description
This book contends that the haptic sense - combining touch, kinaesthesis and proprioception - was first fully conceptualised and explored in the modernist period, in response to radical new bodily experiences brought about by scientific, technological and psychological change.
How does the body's sense of its own movement shift when confronted with modernist film?
How might travel by motorcar disorientate one sufficiently to bring about an existential crisis?
If the body is made of divisible atoms, what work can it do to slow the fleeting moment of modernist life?
The answers to all these questions and many more can be found in the work of four major writers of the modernist canon - James Joyce, Virginia Woolf, D.
H. Lawrence and Dorothy Richardson. They suggest that haptic experience is at the heart of existence in the early twentieth century, and each displays a fascination with the elusive sense of touch.
Yet these writers go further, undertaking formal experiments which enable their own writing to provoke a haptic response in their readers. By defining the haptic, and by looking at its role in the work of these major names of modernist writing, this book opens up the field of literary studies to the promise of a haptic-oriented analysis, identifying a rich seam of literary work we can call 'haptic modernism'.
Key Features * Offers a coherent history of ideas of the haptic, tracing their impact on literary innovation. * Analyses the transformations of haptic experience in the modernist period, and its roots in developments in mechanised transport, the cinema, contemporary science and the rapidly modernising city. * Provides in-depth studies of the work of Joyce, Woolf, Lawrence and Richardson from a new, haptic-oriented perspective, shedding new light on familiar figures of the modernist avant-garde. * Puts literary experiments with the haptic in the context of work on touch in other fields including film theory, sociology, computer science, physiology and human geography, exploring our great contemporary interest in the concept of hapticity.
Information
Format: Hardback
Pages: 256 pages
Publisher: Edinburgh University Press
Publication Date: 17/05/2013
Category: Literary theory
ISBN: 9780748641741
Other Formats
Paperback / softback from £15.19
Also by Dr. Abbie Garrington