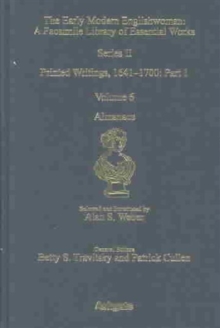 Almanacs : Printed Writings 1641-1700: Series II, Part One, Volume 6
Hardback
Description
Almanacs were highly influential on popular opinion during the early modern period.
They were the least expensive kinds of books and had a practical use as a calendar, literary miscellany, weather guide and advertising medium. The almanacs in this volume contribute to our understanding of women's participation in popular culture, astrology, medicine and prophecy.
Sarah Jinner's almanacs for the years 1658, 1659 and 1664, and Mary Holden's almanacs for 1688 and 1689 show a conscious effort to distance themselves from other female religious prophets of the period by relying on the status of astrology as a rational science. The other works in the volume are all attributed to writers who were probably pseudonymous.
Dorothy Partridge's The Woman's Almanack for the Year 1694 includes several short articles on chiromancy.
The Prophesie of Mother Shipton concerns the prediction of the deaths of Cardinal Wolsey and Thomas Cromwell.
The final works in the volume comprise two texts by Shinkin ap Shone which satirize the Welsh people and language, and The Woman's Alamanack by Sarah Ginnor which uses sexual humour to parody the medical advice offered in Jinner's almanacs.
Information
Format: Hardback
Pages: 320 pages
Publisher: Taylor & Francis Ltd
Publication Date: 07/03/2003
Category: Literary essays
ISBN: 9780754602156